The Ways of Living With Art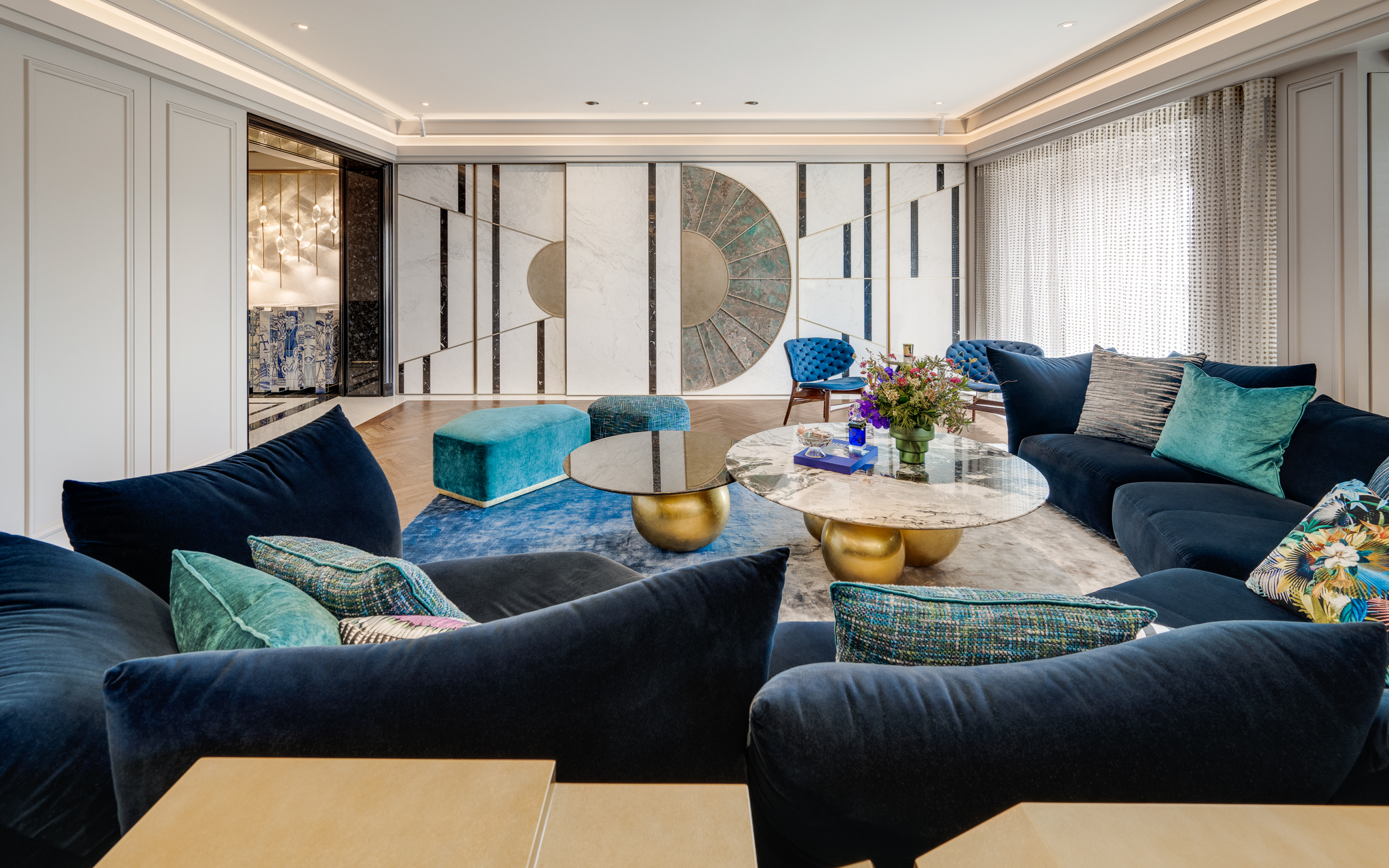 "It is only by living in our spaces well that we have the potential to be moved by art. Only then might we truly understand the beauty of art in the realm of life." – Idan Chiang, L'ATELIER FANTASIA.
---
Most of us have a couple of objects in our homes of which we are especially fond, and corners or rooms that are our favorite places for carrying out specific routines. Our domestic inclinations typically have an intimate link with our life stories. It is becoming mainstream knowledge that an artwork reflecting meaningful narratives can be the key that connects people to a space. After all, "home is where the heart is":  a place where it is important for us to feel at ease. The complex interactions between people-objects-spaces cannot be described through a standardized formula.
Consequently, integrating an artwork into a living space successfully involves considerations on many levels. The lighting, color scheme, composition, load-bearing capacities of the space, as well as the transportation and installation of the work, must all be carefully planned and co-ordinated. Director Idan Chiang of L'atelier Fantasia, specializing in the realization of this multifaceted sensory experience with meticulous attention to detail, describes: "Once the client gives us the image they have in mind of how they want to live in their home, L'atelier Fantasia will break it down to each detail through the senses — the visual, tactile, olfactory — to actualize the client's wishes."
This process includes choosing the right pieces of art for her clients. A collector herself, Idan is no stranger to art, and it is through her involvement in the field that she met her current partner in work and life, Reding Ho. We speak to the pair to find out how they imagine the relationship between art and life.
Everyone has a yearning for art.
Idan: Designing a home is also a creative process. After we discern the general outline of the client's wishes, we then plan it down to the very finest details. Even for one light fixture, our process is like creating installation art. We'll adjust it until it fits the lighting and proportions of the space. I remember once spending six hours to make one client's light fixture emulate the ambience of the wind blowing.
Reding: The light fixture had a dozen leaf-shaped parts, using either direct or indirect light. After making the adjustments, its owners could really feel the difference. But without seeing this whole process, the average person wouldn't be able to appreciate it. I think everyone has a yearning for art in some way. So our design process is like making art: we hope that when the client moves in, the objects displayed in the space, including the artworks, can open up their senses and generate different relations.
Idan: That's also why, right from the outset, we spend a lot of time getting to know our clients. We ask about their profession, how they started their business, their views on love, and even about how they spend time with their significant other and their children. We hope that their experiences can be reflected in the space they live in, and this also includes picking artworks that resonate with them, that truly move them.
Reding: Of course, it depends on the opportunity whether we get to choose the artworks. Sometimes in the design process, we would put aside some space and tell the client that it might be suitable for artwork display, but they may not have ever collected art before.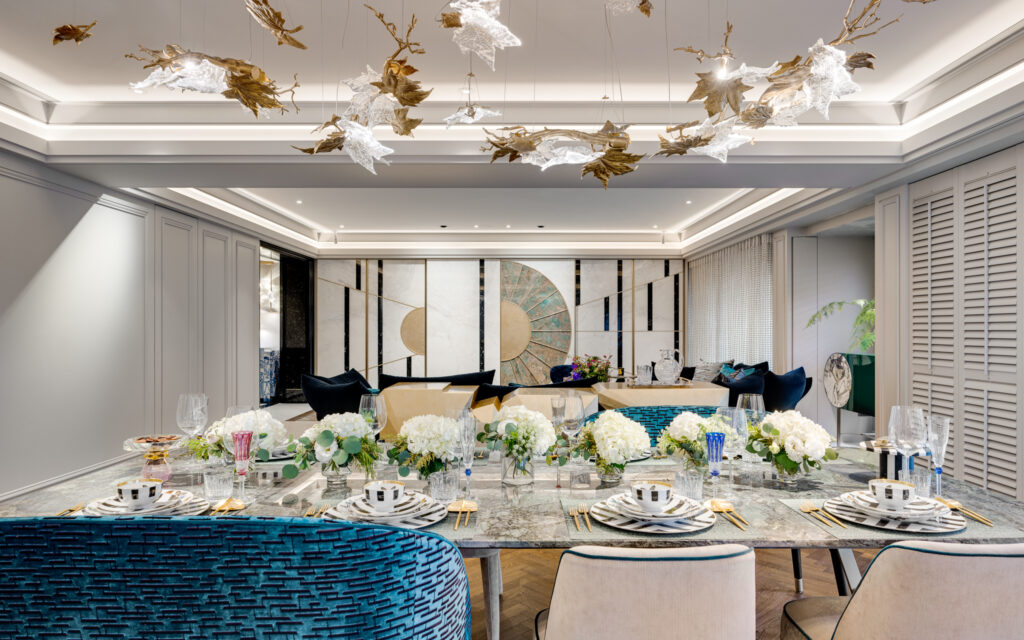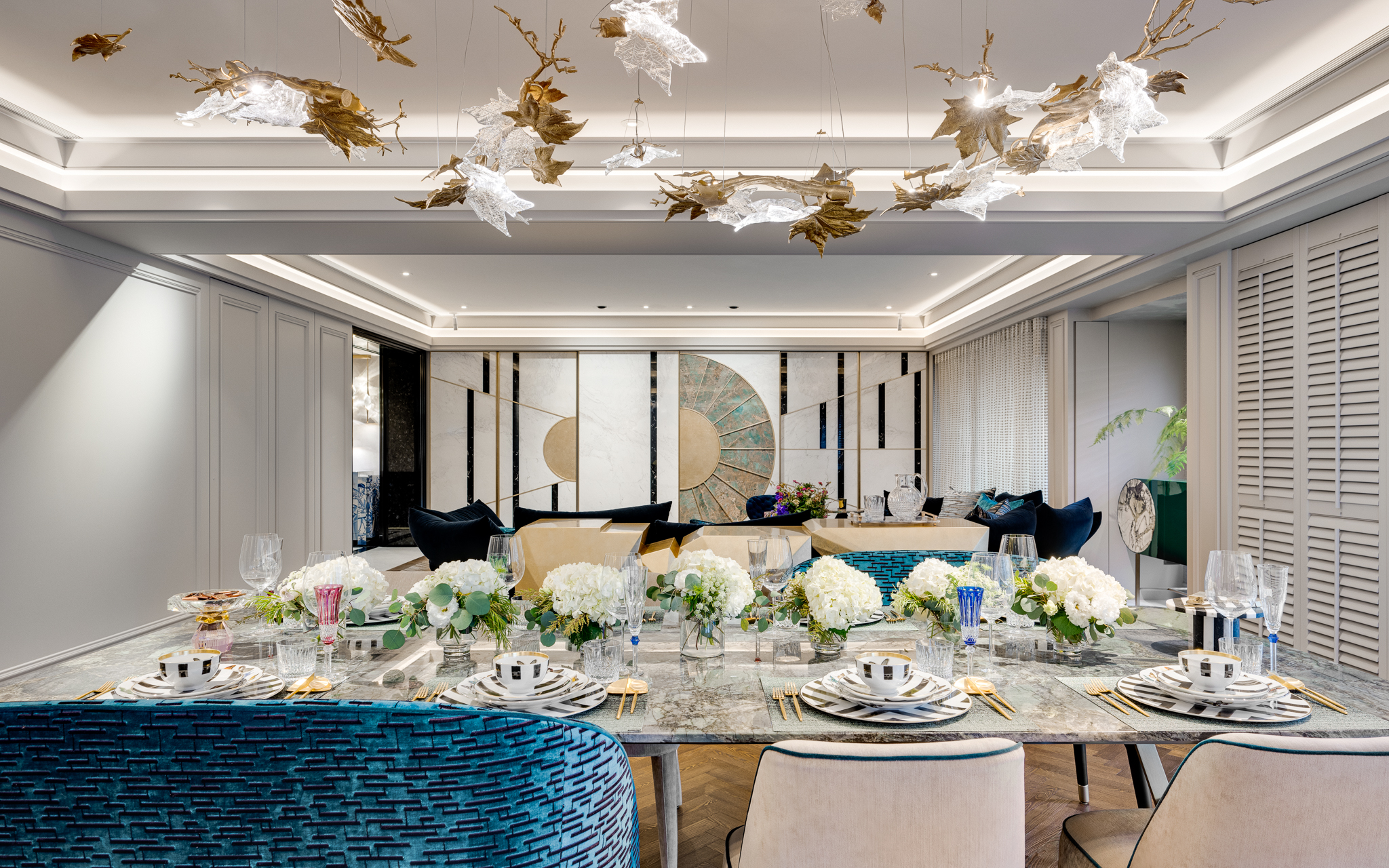 Courtesy of
L'ATELIER FANTASIA.
At the end of the day, it is the meaning in the art that will move you.
Idan: Although the meaning of the artwork is the most important aspect, we also have the color of the space, the size and even the weight of the work to consider — this whole process is quite like curating an exhibition. The placement of each work is interrelated with the structure, design and construction methods of the original space — we must start from the client's point of view. 
For instance, there was a client who wanted to start life from scratch. He wanted to leave his past behind, with his new space being a place where he could create the future. I played with a little trick of design at the landing where the stairs change direction, to give him the feeling that he was seeing a different landscape. We chose an artwork with an imagery of the moon gate that represents completeness. We hoped that in this new space, he could open up to a new social circle and really, truly, live a new life.
I know that when new collectors are guided in choosing artworks, it's often from the perspective of investment. But we always look at it from the perspective of the home: what kind of energy flows from the work into the spaces of your daily life? What kind of resonance does the work's meaning have with you or your life?  That's the real heart of the matter, and only after do we think about the budget.
Reding: We can tell that some of our clients won't have much of a budget for artwork, but we'll still do our best to look in their biography to find clues as to what artworks they might like. For instance, we had a client who was born in the 1960s or '70s, and we recommended a piece to him that particularly resonated: a small sculpture of Science Ninja Team Gatchaman. He liked it so much that soon afterwards he inquired about similar works to collect. We could say that through the process of working with him, we've assisted his growth as a collector.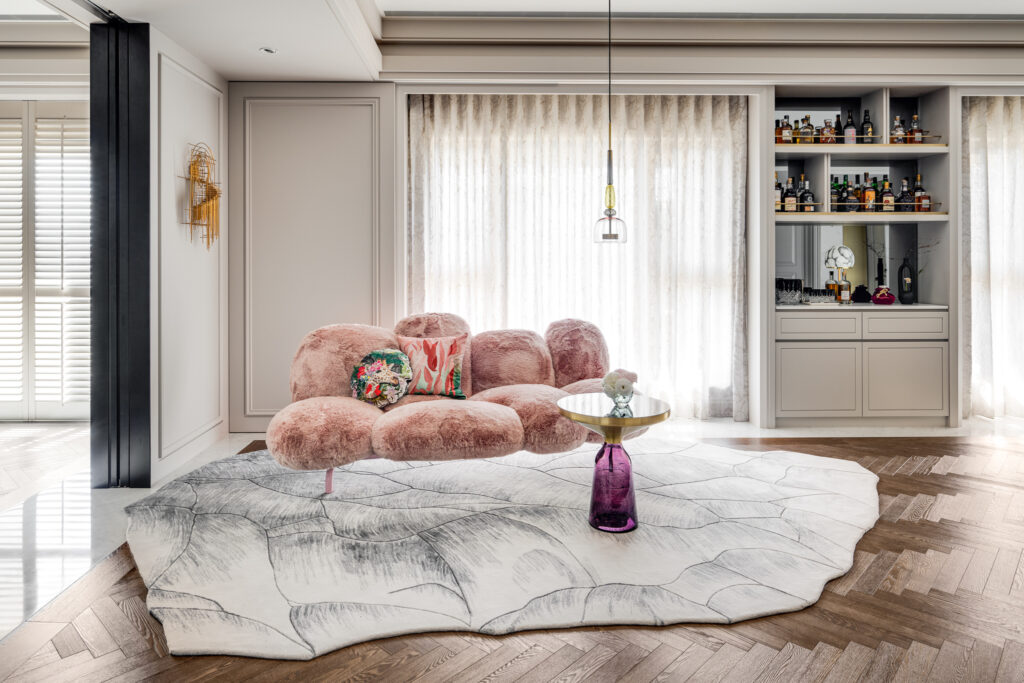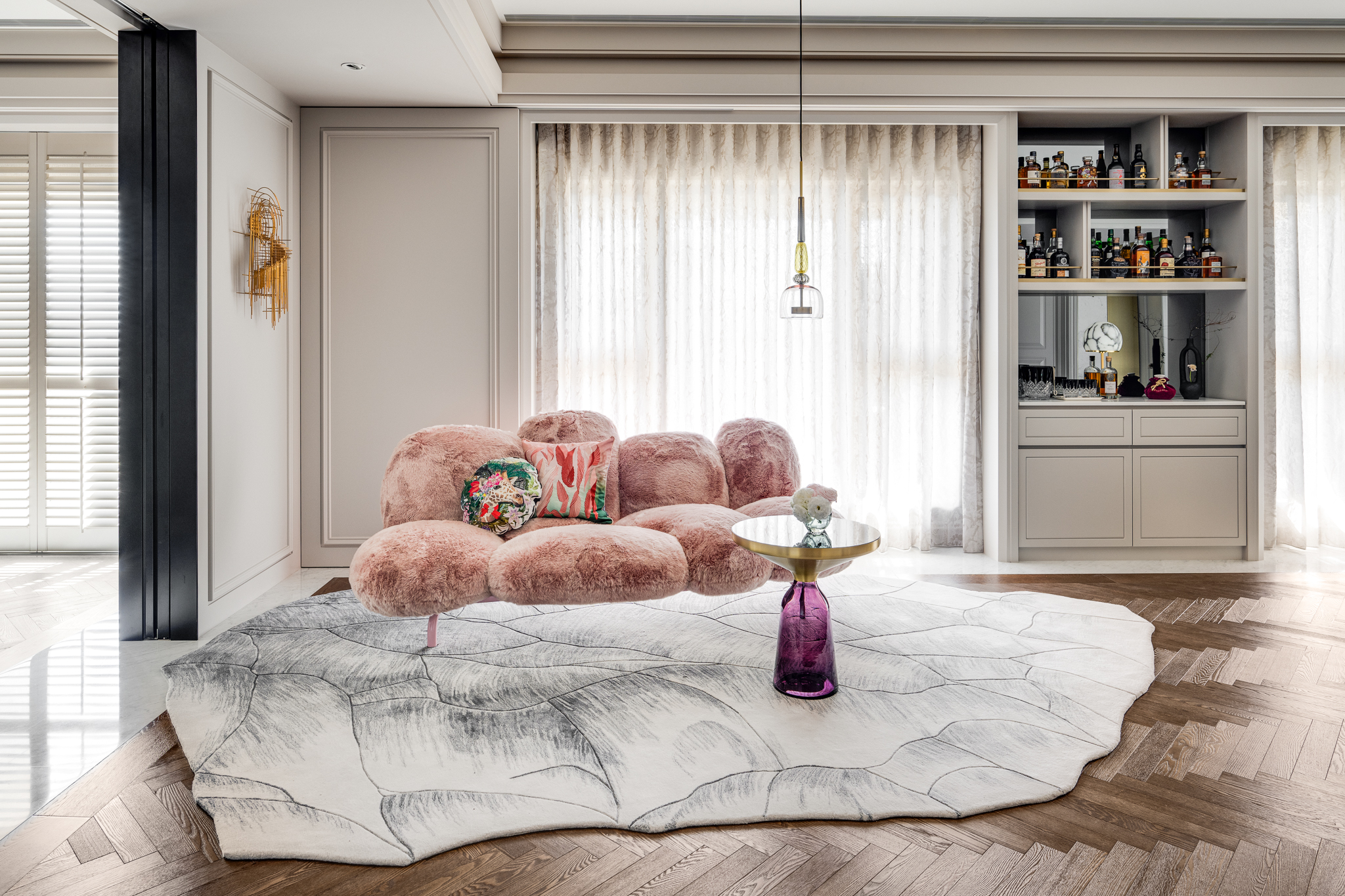 Courtesy of
L'ATELIER FANTASIA.
Idan: For my own collection, I love conceptual art and I also collect a lot of it, but it's not likely that the general client will take to it. I hope that through this year's co-operation with Taipei Dangdai, they will grow accustomed to seeing contemporary art exhibitions, and also further their understanding that art isn't only able to impact you through its visual effect — it can also be an exploration or a reaction to society's issues. In this way, they will gradually identify with it, and then move towards collecting.
Reding: I often tell Idan that this can't be rushed. Often when we are absorbed in our daily routines, we aren't  aware of what's going around us, but art's value is that it can extract these things: maybe visually, in a picture, or perhaps it's a film or an installation.This often challenges the client's imagination of art, to see it as being more than just painting or sculpture.
The beauty of art in our lives.
Idan: Yes, we could say that the artwork is the best medium to transform our five senses, and this is the direction we're always insisting on. We don't want clients to amass decorative objects in their space, but instead collect objects that harmonize with their personal experiences, that they can live with in the space.
This also returns us to the issue of appreciation. My approach to choosing artworks as a project designer is completely different than as a collector. For example, when I recommend an emerging artist to my client, the response I most like to hear is about how much they like the piece and how it has been with them through their personal growth — not about how much the work has finally risen in value.
Reding: I also consider it odd to recommend a work for its market gains. Although you can flip a work quickly, and the client might enjoy instant benefits, I think that good taste needs time to be nourished and cultivated, so that it can slowly grow.  Then only can it thrive. This is just like our design philosophy: only with the right intentions can we move in the right direction. If I were doing this just to make money, our designs and the spaces we produce definitely wouldn't fit our clients' lives successfully.
Idan: Many clients have told us later that after they moved in, they discovered many minuscule details that they hadn't ever thought about before, and their appreciation of the space grew with time. This is the result of the hours and effort we spend in consultation with them beforehand. It is only by living in our spaces well that we have the potential to be moved by art. Only then might we truly understand the beauty of art in the realm of life. It's as if we have planted a seed: the owners can start reflecting on their relationship with life, and their lives will be touched deeply. In the future, they might give more respect to other people's life experiences outside of the pursuit for success, and see that there are many things worthy of our attention — that's when the beauty of art in our lives has been truly realized.