How Taiwanese artists interpret ink painting in contemporary art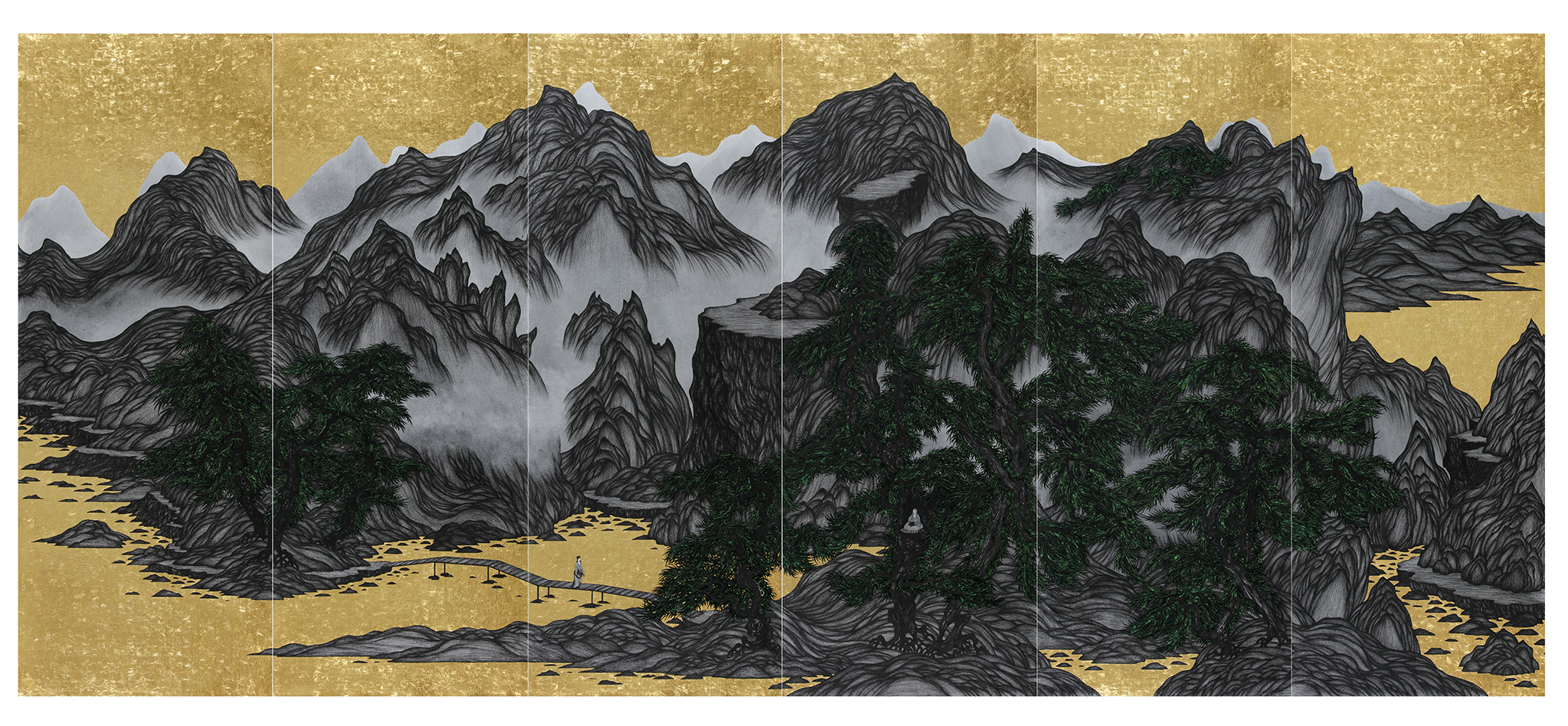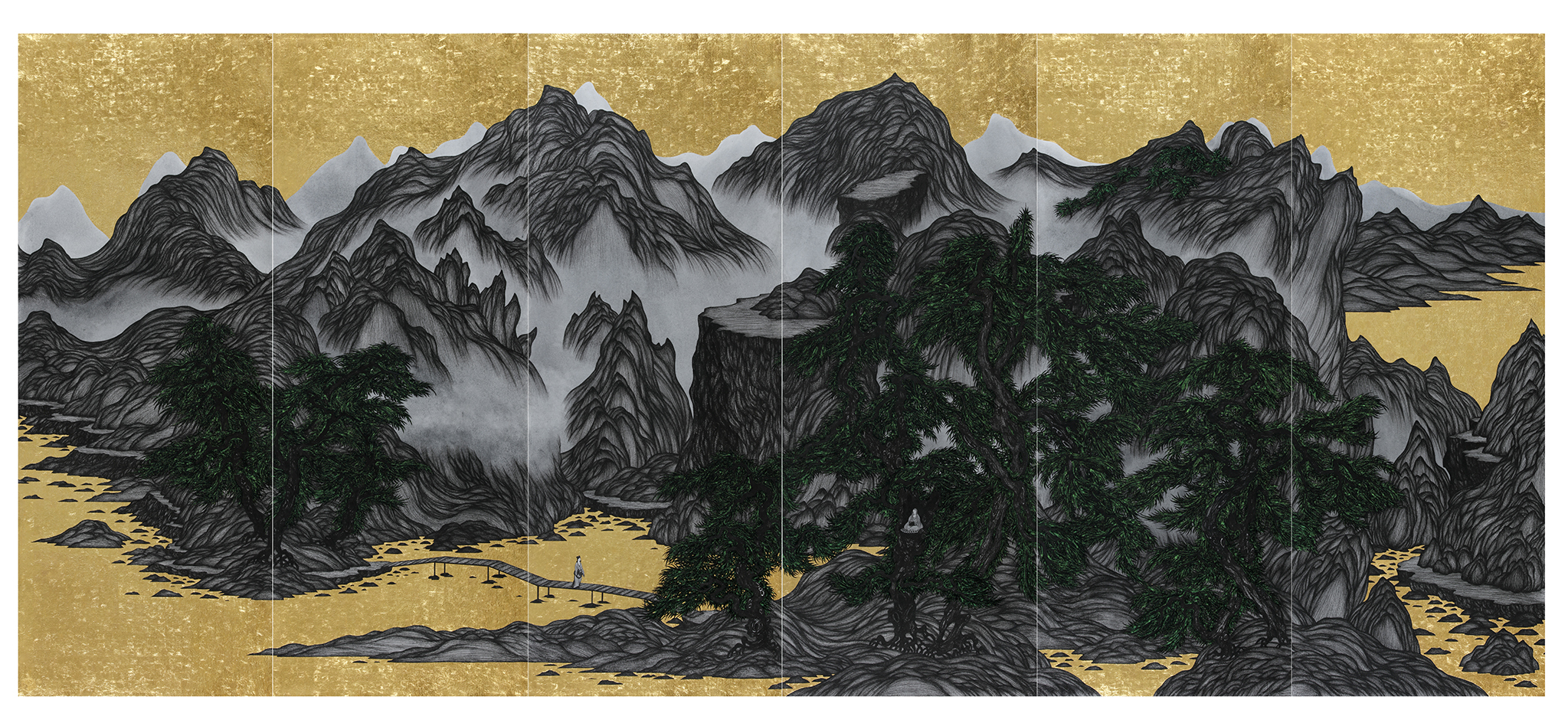 In recent years, artists have turned to ancient styles of ink painting as a place for innovation, often turning away from traditional brushes and rice paper. This new style presents the landscape in a different way, with a contemporary mentality emphasizing synchronicity and mixing the past with the present.
---
Editor: Ying-Hsuan Tai
Chinese painting focuses on the spirituality of ink and brush, prioritizing feelings of aliveness not only in visual presentation but also reflecting an inner energy. The painting manifests in visual form the interiority of the painter. Historically, many ink painters chose to live in seclusion in nature. The only company they kept was poetry, literature, and painting. Artists in the late Ming period painted mountains and rivers, combining reality and their imagination to express frustration with and anxiety around social instability. Similarly, for artists today, a landscape is never simply a depiction of nature.
In recent years, artists have turned to ancient styles of ink painting as a place for innovation, often turning away from traditional brushes and rice paper. This new style presents the landscape in a different way, with a contemporary mentality emphasizing synchronicity and mixing the past with the present.
Yao Jui-Chung's Ballpoint Landscape

Yao Jui-Chung, Vimalā-bhūmi: Nāgārjuna's Middle Way, 2019. Gold leaf and ink pen on Indian handmade paper, 199.5 x 458 cm, 6-panel screen. Courtesy the artist and Tina Keng Gallery.
Yao Jui-Chung started to reinterpret traditional ink painting in 2007, when he was an artist in residence at Glenfiddich in Scotland, where he enjoyed a hermetic lifestyle. The ballpoint pen doodles he made to kill time inspired him to think about the relationship between man and nature, which led him to create the alternative landscape that he is not known for.
Yao's paintings were made with ballpoint pens instead of traditional ink brushes. His landscapes, composed of a large number of lines painstakingly interwoven and piled up, are magical and almost neurotic. He once quoted Chinese poet Li Shangyin, "Silkworms spin till the end of their living days," indicating the dedication and desperation in the works. The backgrounds of the landscapes were filled with gold leaf. Like Buddhist cave paintings, ballpoint blue and gold leaf together constructed the bright landscape in the work.
The compositions in Yao's landscape paintings are mostly drawn from classic paintings of Chinese art history, albeit with a biographical slant. The series "Life is but a Dream," for example, portrays eight important moments in his life, including his wedding and the births of his two daughters, humorously transforming the traditional landscapes. In copying the form of ink paintings and adding personal stories, he transforms tradition while retaining its spirit, mixing past with present.
Wu Chi-Tsung's Image Landscape

Wu Chi-Tsung, Cyano-Collage 038, 2019. Cyanotype photography, Xuan paper, acrylic gel, 180 × 180 cm. Courtesy the artist and Galerie du Monde.
Since 2012, Wu Chi-Tsung has been making image landscapes. He uses cyanotype, an early photographic printing process, to reinterpret the wrinkles in traditional ink paintings. For the series "Wrinkled Texture," Wu directly applied photosensitive material to rice paper and exposed it under the sun for around 30 minutes, during which he continuously adjusted the layers and folds of the paper, before finally fixing the images. This method added light and shadow to the photograms, aspects not commonly seen in traditional ink painting.
For the series "Cyano-Collage," created in memory of the artist Ni Tsai-Chin, Wu combined Ni's signature method of ink collage with cyanotype to create a series of magnificent, large-scale montage landscapes.
Wu replaced brushes and ink with the photogram to construct experimental contemporary image landscapes, reinterpreting the concept of nature in Asian culture. In photography, there is a relationship between the photographer and the photographed. When there is no camera involved, the action of wrinkling paper plays a key role in generating the images, adding an element of performance into traditional landscape painting.
Shi Jin-Hua's Pen-Walking Landscape

SHI Jin-Hua, Pen Walking#168, 2018-2019. Pencil, paper and document, 98 × 187 cm. Courtesy the artist and Mind Set Art Center.
Known for his conceptual practice, Shi Jin-Hua uses his body as a medium, measuring the world while exploring the relationship between art and existence. In 1994, one of his pens was running out of ink, so he took a piece of blank paper and scribbled until the ink was completely dry. Beneath the unconsciousness of this act, there is consciousness in flux. As in yogic spiritual practice, the body moves along with the pen, "walking" the time back and forth. The hand holding the pen can be seen as the epitome of Shi's life, marking down the traces of living.
"Pencil Walker," the series Shi Jin-Hua started in 1996 and has continued until today, is his most iconic work, reflecting both his art practice and life journey. In the recent series "Pen Walking (Mount Kailash Pilgrimage)," Shi used the body of the pencil to complete the Mount Kailash pilgrimage on paper. Originally a Christian before becoming a Buddhist, he was unable to make the pilgrimage in person, so he decided to draw the outline of the mountain in black pencil, making the body of the pencil his own.
For "Pen Walking #169: Snow Peak under Moonlight," Shi soaked the paper in ink, then used a white pencil to draw a mountain covered in snow. Shi only drew at night when the moon was visible so he could imagine climbing the mountain under the moonlight. Through this spiritual journey, Shi was able to walk to the peak of the mountain at 6,600 meters above sea level, immersing himself in the everlasting world. Shi Jin-Hua exhausted the life of a pencil to document every step he made, combining physical labor and spiritual realization to conquer the vast world and liberate the mind.
Conclusion
Whether Yao Jui-Chung's ballpoint landscape, Shi Jin-Hua's pen-walking landscape, or Wu Chi-Tsung's image landscape, these three artists have directly or indirectly transformed traditional Chinese painting, liberating the ink style by discovering alternative conceptions of beauty in nature. Conceptually, all three artists preserve the spirit of traditional painting, and add elements of physical labor to their work. As viewers we can enjoy mountains, rivers, trees, grass, the moon and the sun even without recourse to nature; these artists use their pens and hands, drawing, wrinkling, and piling up lines and folds, an eternal and powerful landscape for the contemporary moment.
Reference:
"Long live the landscape, Reading the pseudo landscape", Yao Jui-Chung
"An assumption of reality and its traces – the poetic observation of Wu Chi-Tsung", Lin Yi-Hsiu
"Shi-Jin Hua: The walker in the whirling world", Sun Xiaotong