The tech un-savvy may feel that the NFT space is one of incomprehensible jargon. NFTs, a way to prove digital asset ownership, emerged from blockchain developments and disrupted the art market during the pandemic. The birth of blockchain traces back to 2008, when an engineer under the pseudonym Satoshi Nakamoto published the paper Bitcoin: A Peer-to-Peer Electronic Cash System, outlining its concept and technical specifications.
Blockchain technology's draw as a decentralized system gears it to be the next most influential technological development after social media. To guide you in this emerging new world, Taipei Dangdai selects ten keywords about NFT art that you need to know.
Beeple
The term "NFT" became everyday language when Christie's New York sold the work of digital artist Beeple in a jaw-dropping auction on 11 March 2021. Everydays: The First 5000 Days is a collection of one-per-day images that Beeple had been producing for over thirteen years. It fetched over US$69 million, and payment had to be made on Ethereum. Beeple's artwork entered records as the second most expensive NFT artwork ever sold. Despite it later being flagged for controversial imagery, the work will go down in history for putting NFTs into the limelight.
Ethereum
Ethereum is a blockchain created by Vitalik Buterin, known in the Mandarin-Chinese speaking world as "V God", who was inspired by Bitcoin in 2013 when he was just 19 years old. Its cryptocurrency Ether (ETH) is the second most valuable in today's market.
ERC-721
Topping Art Review's Power 100 list in 2021, this keyword is in fact the code for an Ethereum standard. The ERC-721 protocol specifies which data the unique token of the NFT (non-fungible token) must record, so that it can be used to prove ownership. In a world where digital files are infinitely reproducible, NFTs are a way to define who owns which token and what digital file is associated with it.. This makes it possible to transfer, trade and possess digital objects like other art forms.
Courtesy the artist and SOYL.
Crypto Wallet
As blockchain was initially proposed to replace centralized systems of monetary transaction, many of its elements borrow from trading terminology. A wallet address is used to identify each user on the blockchain, similar to how an IP address distinguishes users online. Since NFTs verify proof of ownership on a decentralized blockchain, an NFT has to be attributed to a user's wallet to deem it 'owned'. Currently, crypto wallets correspond to different types of blockchains, for example, the Ethereum blockchain requires an Ethereum wallet for transactions.
Minting and Gas Fee
Each time a new proof of ownership is recorded, including when an NFT is first generated, this is called "minting". In the decentralized world of blockchain, there are many nodes(known as miners) that record the transaction, each independently solving calculations to create unique IDs and other necessary data. The simultaneity of all the nodes' record-making create a consensus mechanism that is difficult to tamper with, thus decentralizing the system. The handling fee paid to the blocks/miners is known as the Gas Fee.
SOYL
SOYL is Taiwan's home-grown NFT platform, whose name in Mandarin translates to "All". Fittingly, it merges curating, trading, media and management services, with a team comprising specialists in contemporary art and blockchain. SOYL aims to promote all art forms distributable in the form of NFTs, including painting, multimedia, sculpture, and photography, and generate new experiences in OMO (Online Merge Offline) collections. In its pipeline is content that fuses fashion and music, as well as bringing other cross-disciplinary collaborations into being. During Taipei Dangdai, in the sector "Launch Stage", SOYL will exclusively drop NFT art by artist Huang Hai-Hsin, as well as artist Ting-tong Chang's latest immersive mobile game project She & You & Her. Japanese artist Teppei Kaneuji's Tower (NFT) series is also live on the platform.
Discord and AMA
The NFT community is tight-knit. NFT creators, marketplaces and community forums all commonly use Discord as their communication platform. Originally popularized by gamers, Discord seamlessly integrates text, voice and live-streaming, with various plug-in bots to add functions such as music playback and password verification. Many digital-native artists are also frequent Discord users, often hosting AMAs ("Ask Me Anything" discussions) that emphasize the community's approachability and openness.
Courtesy the artist and SOYL.
Floor price
As an NFT circulates, its value accumulates, so it makes sense that the NFT marketplace uses auction house mechanisms and terms. The floor price is the lowest price at which a work in an NFT collection can be purchased, and the higher the floor price, the more valuable the NFT is considered to be for its holder.
Whitelist
Having a whitelist is a way of rallying a community around NFT projects. From time to time, projects will hold events to put users onto its whitelist, where they may give away NFTs or priorities to mint future projects. It also incentivizes the continuing participation of digital natives and others who are genuinely engaged with the community.
Mystery box / Blind Box
The mystery box is the virtual world's version of the lucky dip or the grab bag. A user first pays a fixed price (sometimes just the gas fees), only seeing the NFT when they open the box. The mystery NFT can vary greatly in value, so drawing a prized rarity is tantamount to winning the lottery. The mystery box is also a strategy used to bond the NFT community.
Still confused? SOYL will be leading crypto wallet workshops at Taipei Dangdai every day at 11.00am from 20 to 22 May, guiding you step by step into the extraordinary universe of NFTs. And as part of "Taipei Platform" on 21 May (Sat) from 3 – 4pm, SOYL co-founders James Chen and Paige Chao will also be discussing the current state of NFT art and its market for collectors.
The art advisor is a relatively enigmatic figure in the art industry. Operating in amorphous areas of mediation, they can be seen negotiating with galleries on behalf of clients, or having personal studio visits with artists in the manner of a gallerist. The emergence of art advisory in a region also indicates the growth of its art industry and maturation of its collecting culture; nonetheless, there still may be many art collectors in the dark as to which services art advisors actually provide. "Art Advisors in the New Market", the first session of Taipei Dangdai's Ideas Forum, invited three important figures in the field – Ed Tang, Amelie von Wedel and Yuki Terase – to give us a peek behind the profession's doors.
Defining the Art Advisor
We generally assume that the art advisor gives advice to their clients in regards to making acquisitions for their collections; however, the work does vary depending on the type of client and the services requested. Some art advisors specialize in co-operating with interior design firms to ensure the collected artwork is presented to its full potential in the home, while others support clients in the long term, together building a comprehensive collection of artworks that reflects the collector's taste. Ed Tang's recently established Art Bureau has facilitated projects that matchmake collectors to artists for commissioned work. Other art advisors see art as a part of the client's long-term asset management, accurately tracking the price trajectories of artworks in pursuit of pieces whose values will appreciate.
On the subject of categorization, Wedel Art founder Amelie von Wedel, who has been in the art advisory business since 2006, responds, "The days of categories are over. In the past, the art world used to strictly follow unwritten rules. An auction house would never sell a primary market work – galleries only dealt with primary market works, dealers worked with the secondary market." Now, she tells us, galleries are also paying attention to the performance of the artists they represent in the secondary market. Yuki Terase, who co-founded the art advisory firm Art Intelligence Global at the height of the pandemic, echoed Wedel's sentiment about the art market's developments, asking, "Before the pandemic, who would have thought that all the major auction houses would even stop printing out paper catalogs?"
The pandemic indeed has caused dramatic transformations in how the art market operates, and also at an increasingly accelerated pace. This context makes the client's reliance on the art advisor, who offers advice based on their continuously accumulated years of professional experience in the art market, even more pronounced. Art advisors can even be approached by artists for insight on how they should position their practice in the secondary market, with the aim of stabilizing and sustaining their careers.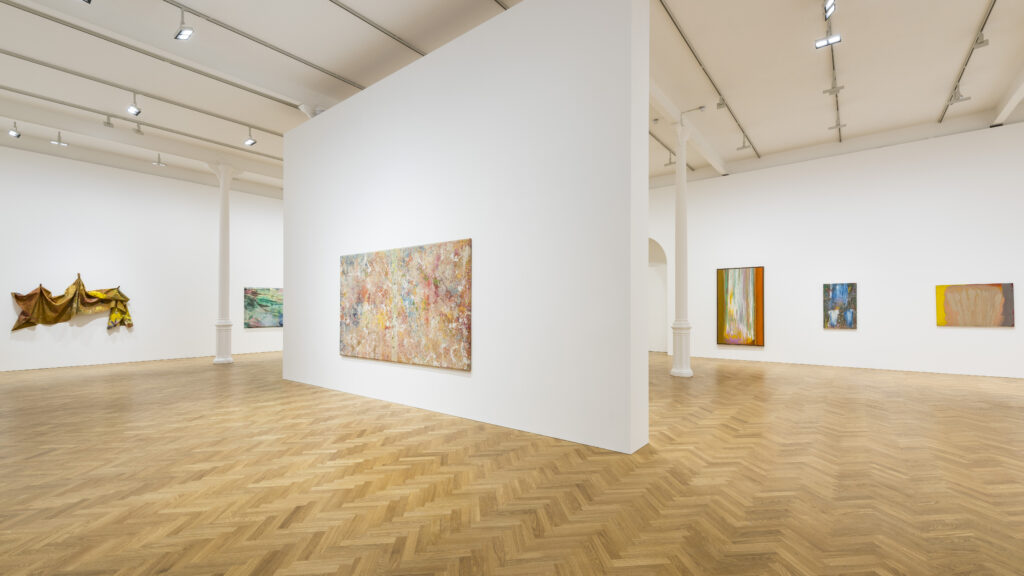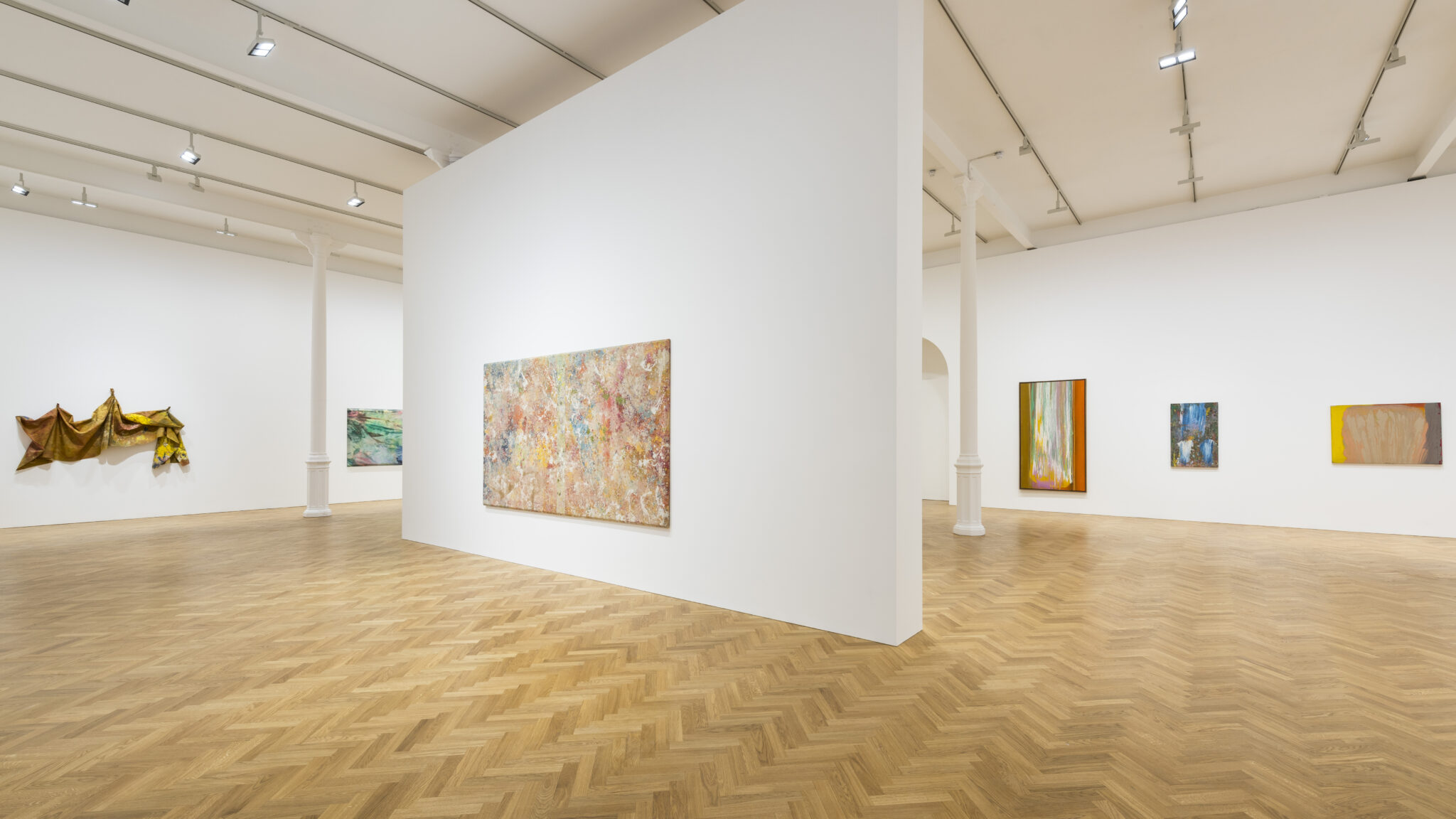 Installation view, IMPULSE, 2017, Pace Gallery, London: a ground-breaking exhibition at Pace Gallery co-curated by Wedel Art, that examined American abstract painting in the 1960s and 70s, with works by Frank Bowling, Ed Clark, Sam Gilliam, Morris Louis and Kenneth Noland. Courtesy the Artists/Artists' Estates and Pace Gallery, London.
Nevertheless, it is a misconception that an art advisor is only tracing the trends. Wedel had exhibited artist Theaster Gates before he was ever signed to a gallery, and at Pace's London gallery, she showed abstract paintings from the 50s and 60s by American artists who were also only later approached for gallery representation. She describes art advisors as being the most liberated players in the industry, raving, "As an art advisor you really have the freedom to roam the entire commercial art world and only sell what you believe in."
Transparency is Key
The shadowy reputation of art advisory can stem from the opacity surrounding its remuneration, which also leads to a great deal of opportunists offering services. In response, our three panelists unanimously agree that an open and transparent charging model is of utmost importance. Since 2006, Wedel has charged her clients a "straight-forward" fee of 10% of the artwork's final price in the gallery after all negotiations (and when the artwork reaches a certain value this commission decreases.) "This has proven to work best for us," she expresses. Thanks to her long-standing presence in the industry, Wedel Art doesn't have to ask for retainer fees, which Wedel believes benefits both herself and her clients. After all, the art advisor should be by the client's side to provide peace of mind, and their explorations together of the art market can only be made with mutual trust. Currently, Art Bureau operates by calculating its fees based on the specific needs of the client. Similarly, Terase explains that although Art Intelligence Global is in the early stages of its establishment thus still determining its charging model, its fees are always clearly stated in their contracts. She emphasizes, "A sustainable business is all about long-term relationships, transparency and building trust. At the end of the day collecting is a very personal journey."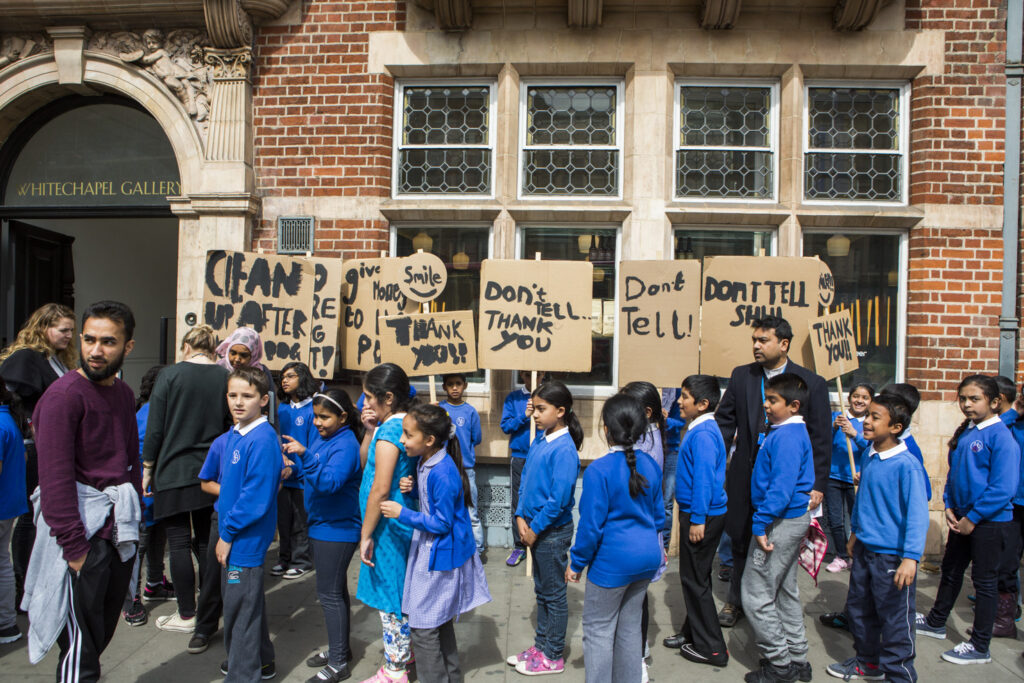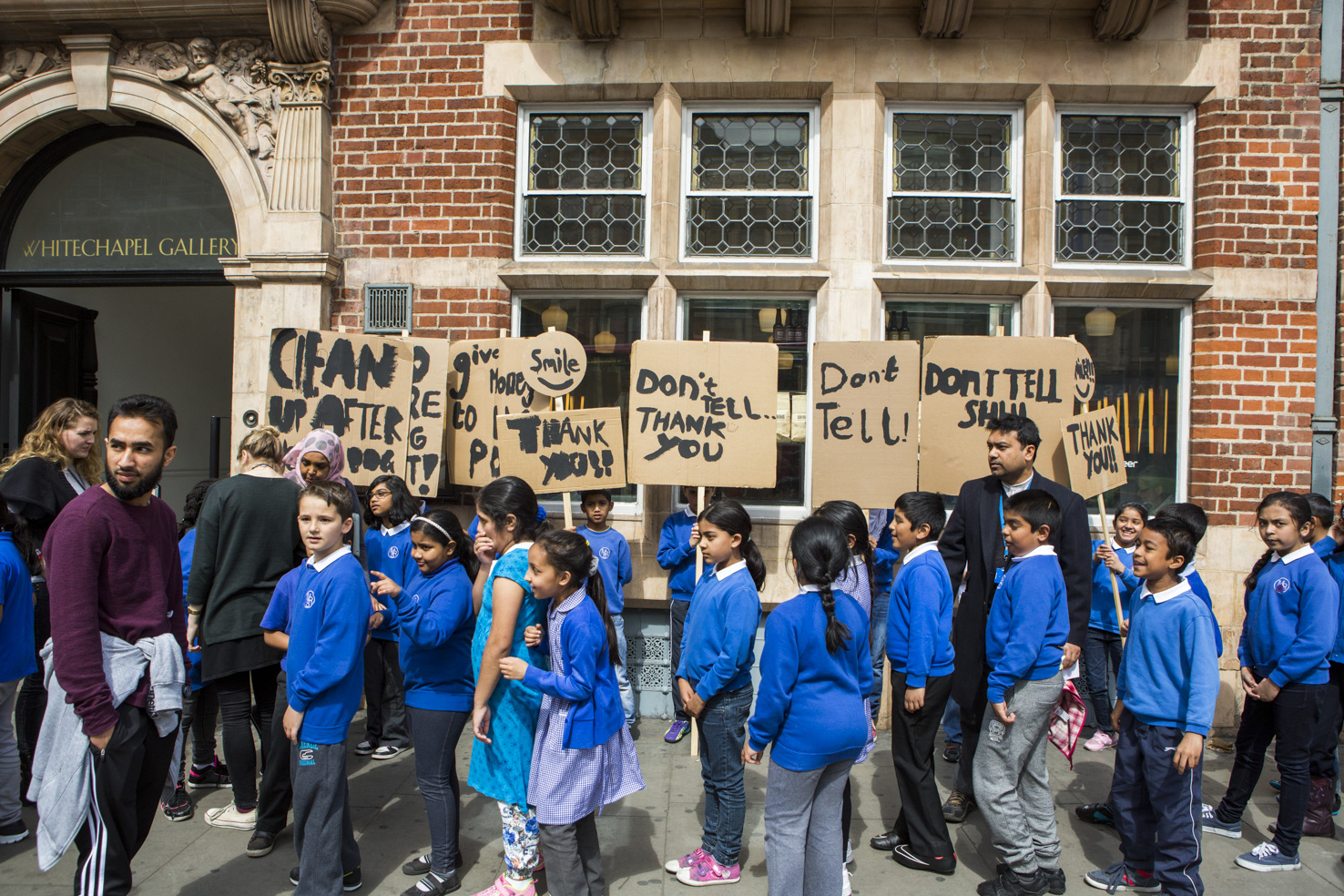 Notes on Protesting: Peter Liversidge, Whitechapel Gallery, 2014. An example of performance and social action, commissioned on behalf of Wedel Art's client, the EMDASH Foundation. Courtesy the Artist and the EMDASH Foundation.
And just what kind of collector should work with an art advisor? In the Asian market in particular, there still seems to be some hesitation around partnering up with an art advisor. "I knew some collectors who couldn't accept paying someone to tell them what to buy," Terase adds. In fact, for those who err on the side of caution, she recommends speaking to an art advisor to avoid making mistakes. A co-operation starts with simply having a conversation about your mutual interests in collecting and what you want to achieve with it. Wedel reasons, smiling, "Any collector can benefit from an advisor, because they would have, in the example of our team, seven people working for them full-time doing research and investigation – how could they do that on their own?" Terase also agrees: "Everyone has only 24 hours a day, so we need to strike a balance between personal life and work. By paying fees to advisors, you actually save money over time as well. Our expertise is to be the eyes and ears of our clients, making sure they get what they want at the right price."
The acquisition of an art piece naturally privileges the collector with a more intimate experience of the work, and if a collection is well-crafted, it serves as a reflection of the collector's unique taste and life experiences. In the pursuit of pieces to collect, the most crucial aspect is to see the physical artworks for oneself, in order to know how you personally respond to the art. Art fairs are arenas where multiple galleries compete, not only attracting collectors but also constructing a networking ground for professional curators and art advisors. If you are looking for a shortcut in the journey of collecting, a stimulating conversation with an art advisor at the Fair could very well be amongst the surprises awaiting your visit.
Installation view, works by George Condo at The Arts Club London (ground floor restaurant).
Wedel Art provides corporate and public clients with tailor-made advice on strategy and building and maintaining collections that meet specific corporate criteria. 
Courtesy the Artist and The Arts Club London. Photo by: Martin Morrell.
In 2021, all eyes in the art world were on NFTs ("Non-Fungible Tokens"). As blockchain technology matures, NFTs have not only rekindled the enthusiasm of digital artists and their followers, but also have raised a new breed of art collectors previously unaware of the world of collecting, and even of art itself. From amongst the sheer multiplicity of information online about the blockchain ecosystem, we take a closer look at three NFT platforms that stand out, each heavy hitters with different approaches to this burgeoning medium. What they all share: a conviction in the lasting value of NFT art.
The 'Side Effect' of the CryptoPunks Explosion: the Birth of an NFT Marketplace for Generative Art
The first platform to focus on trading Generative Art, Art Blocks is devoted to the creation of unique artworks completely processed on Ethereum, from the algorithm to its minting[1]. With Taiwanese artist Aluan Wang deploying on Art Blocks in August 2021, the platform made its definitive arrival to Taiwan. Its founder, Erick Calderon, once aspired to be an artist himself, but being a bad painter, he instead went into ceramic tile design, occasionally programming computer graphics in his spare time. Calderon's digital savvy then peaked with his early support of CryptoPunks, when he paid only the gas fees to snatch up 15 when the project made its free drop. This moment convinced Calderon of the revolutionary potential of NFTs for the digital art world, so he used a part of the profit from selling his CryptoPunks to launch Art Blocks in November 2020.
Specializing in Generative Art, Art Blocks allows artists to upload their artwork's algorithms, with the parameters to produce the artwork being defined when the NFT's hash is generated. This means that the purchaser will only know what the complete work looks like after they buy it, and the artist is also not able to control the appearance of the sold artworks. For the Art Blocks' beta version, Calderon invited Jeff Davis, an artist he admired, to test it out. When the platform launched, the initial NFT projects sold out, then an influx of projects that followed were also all bought up. Because Calderon wasn't satisfied with the quality of many of these artworks, the platform began putting out projects in three categories, each with a different vetting system: Curated, Playground and Factory. While Art Blocks has grown with the explosion of NFTs, it emphasizes the development and promotion of the Generative Art community. The Factory category encourages newcomers to the scene, and their Community Wiki teaches Generative Art 101 and hosts reading groups.
Driving Transparency for Curation and Collection
One of the artists featured in the Art Blocks Curated collection was Casey Reas, now a founder of the NFT collecting platform Feral File. Being an artist himself, Reas places importance on Feral File's community and respecting the artists. Thus, the platform makes smart contracts using Bitmark, specifically built for digital assets, which specify the rights of the artists and collectors. When Feral File offers artworks, it informs collectors exactly what digital objects they receive if they buy the work. For example, it could be the artwork's raw code, or sometimes for video work, a GIF version, making collecting the work more tangible. Feral File's website looks more like a curated online media art exhibition, in contrast to the giddying interface of other NFT marketplaces. Each project on Feral File is handpicked by an invited curator, and also includes interviews and exhibition essays giving collectors a better understanding of the artists and their practices. With this curatorial model, Feral File contributes to the development of media art discourse. It once invited Italian curator and art critic Domenico Quaranta, author of Surfing with Satoshi: Art, Blockchain and NFTs, to curate an online exhibition on machine vision and artificial intelligence.
Projecting NFTs into Art History
Feral File is not alone in tackling the gap between digital art and art criticism. Outland, a platform whose lead founder is Ullens Centre for Contemporary Art (UCCA) former CEO May Xue, plays an important role as an online magazine prioritizing the promotion and review of digital art, even tapping Brian Droitcour, previously Associate Editor of Art in America, to lead its contents. Outland's website presents conversations with video and digital media artists, interviews filmed with artists much raved about in the NFT community, and columns discussing relevant NFT news. Outland also digs deeper by featuring artists already working with blockchain technology, cryptocurrency and related concepts well before the rise of NFTs, and develops critical narratives from their practices. For example, an article titled 'Business Plan' discusses how artist Sarah Meyohas, a finance-student-turned-artist, exploits the crypto start-up hysteria of Silicon Valley in her artworks. Since its recent launch in December 2021, Outland has released NFT projects with Chinese artist Fang Lijun, a long-established figure in the contemporary art world, and American video installation artist Rachel Rose. The public is holding its breath for what's coming next from this platform.
Over the past two years, the pandemic has dramatically transformed the way audiences experience art, perhaps setting the stage for this sudden NFT boom. While there are critics who remain skeptical, dismissing NFTs as just another speculative asset class for the wealthy, the emergence of this crypto art has further fuelled the ambitions of many digital artists. Ultimately, technology is the exemplary pharmakon, with its dualist nature as a poison and the cure, and the medium of NFTs still has its passionate creators and collectors who are determined to forge a new world.
[1]: to mint, i.e. the final step in generating the NFT from the artwork.
Saturday April 30 from 11am – 12 noon Taipei Time [PDT 8pm / EDT 11pm Friday April 29,]  we will livestream an 'Ideas Forum' talk that puts the spotlight on three of the top platforms challenging the form of new media art today: Feral File, Art Blocks and Outland. We invite a co-founder, a creative director and an editor-in-chief from the platforms to delve into the driving forces that are shaping these emerging art forms, penetrating the enigmatic NFT market from different angles. Want to keep up with the latest buzzwords in the art world? What should we consider when we analyze digital artworks? Be sure to watch our IG livestream: "New Platforms for Digital Art"! 
Most of us have a couple of objects in our homes of which we are especially fond, and corners or rooms that are our favorite places for carrying out specific routines. Our domestic inclinations typically have an intimate link with our life stories. It is becoming mainstream knowledge that an artwork reflecting meaningful narratives can be the key that connects people to a space. After all, "home is where the heart is":  a place where it is important for us to feel at ease. The complex interactions between people-objects-spaces cannot be described through a standardized formula.
Consequently, integrating an artwork into a living space successfully involves considerations on many levels. The lighting, color scheme, composition, load-bearing capacities of the space, as well as the transportation and installation of the work, must all be carefully planned and co-ordinated. Director Idan Chiang of L'atelier Fantasia, specializing in the realization of this multifaceted sensory experience with meticulous attention to detail, describes: "Once the client gives us the image they have in mind of how they want to live in their home, L'atelier Fantasia will break it down to each detail through the senses — the visual, tactile, olfactory — to actualize the client's wishes."
This process includes choosing the right pieces of art for her clients. A collector herself, Idan is no stranger to art, and it is through her involvement in the field that she met her current partner in work and life, Reding Ho. We speak to the pair to find out how they imagine the relationship between art and life.
Everyone has a yearning for art.
Idan: Designing a home is also a creative process. After we discern the general outline of the client's wishes, we then plan it down to the very finest details. Even for one light fixture, our process is like creating installation art. We'll adjust it until it fits the lighting and proportions of the space. I remember once spending six hours to make one client's light fixture emulate the ambience of the wind blowing.
Reding: The light fixture had a dozen leaf-shaped parts, using either direct or indirect light. After making the adjustments, its owners could really feel the difference. But without seeing this whole process, the average person wouldn't be able to appreciate it. I think everyone has a yearning for art in some way. So our design process is like making art: we hope that when the client moves in, the objects displayed in the space, including the artworks, can open up their senses and generate different relations.
Idan: That's also why, right from the outset, we spend a lot of time getting to know our clients. We ask about their profession, how they started their business, their views on love, and even about how they spend time with their significant other and their children. We hope that their experiences can be reflected in the space they live in, and this also includes picking artworks that resonate with them, that truly move them.
Reding: Of course, it depends on the opportunity whether we get to choose the artworks. Sometimes in the design process, we would put aside some space and tell the client that it might be suitable for artwork display, but they may not have ever collected art before.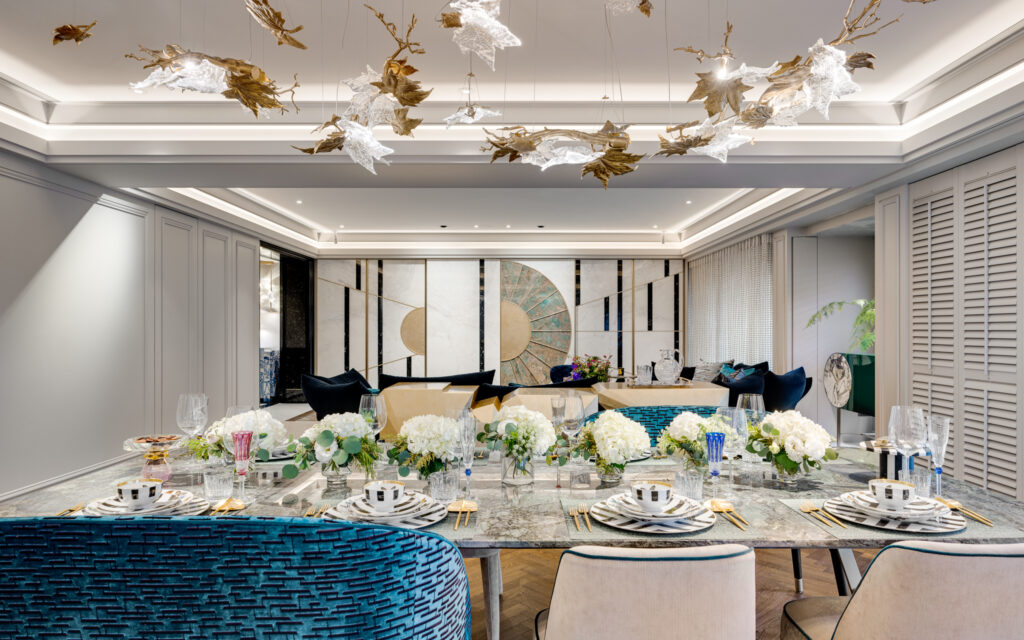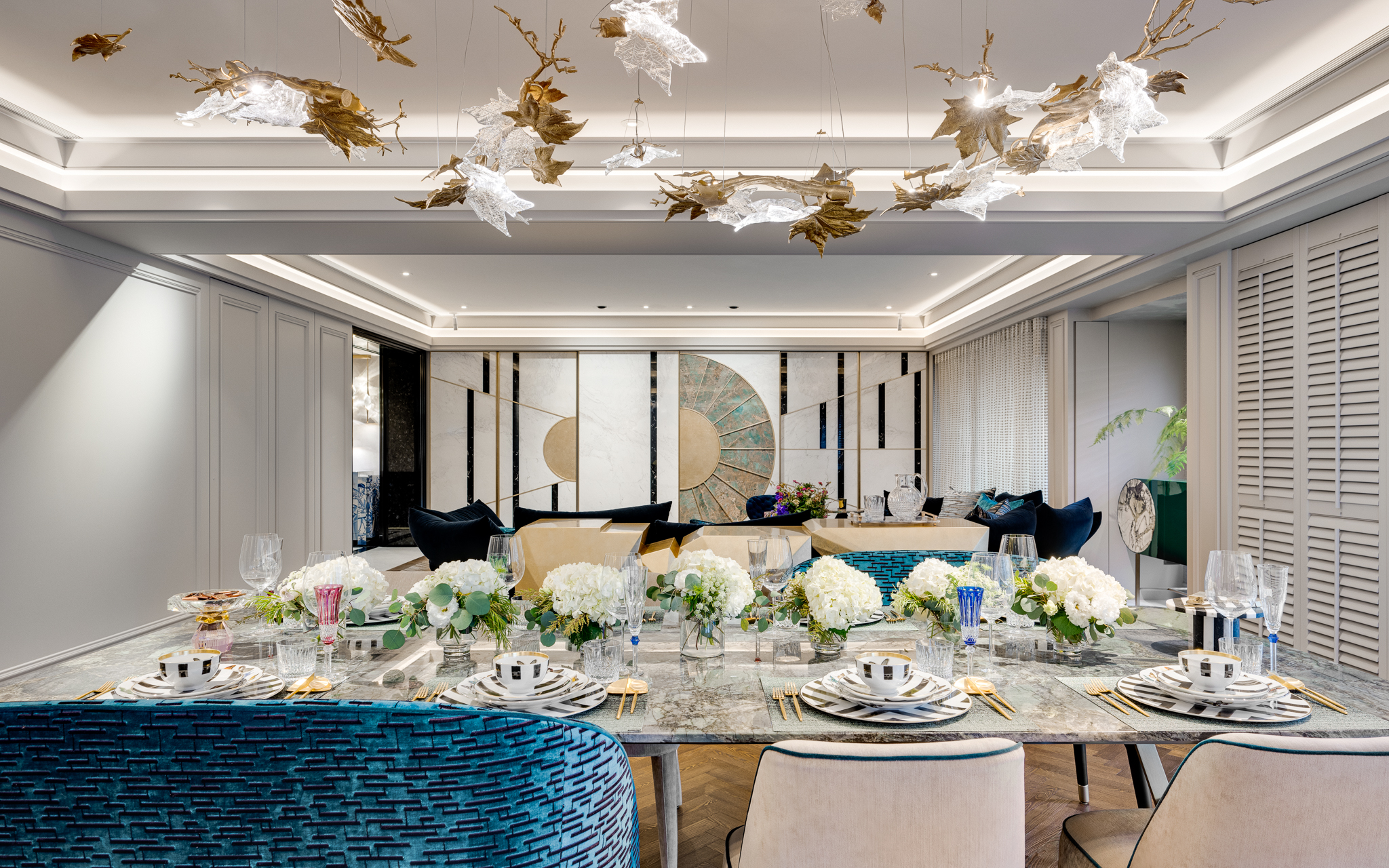 Courtesy of
L'ATELIER FANTASIA.
At the end of the day, it is the meaning in the art that will move you.
Idan: Although the meaning of the artwork is the most important aspect, we also have the color of the space, the size and even the weight of the work to consider — this whole process is quite like curating an exhibition. The placement of each work is interrelated with the structure, design and construction methods of the original space — we must start from the client's point of view. 
For instance, there was a client who wanted to start life from scratch. He wanted to leave his past behind, with his new space being a place where he could create the future. I played with a little trick of design at the landing where the stairs change direction, to give him the feeling that he was seeing a different landscape. We chose an artwork with an imagery of the moon gate that represents completeness. We hoped that in this new space, he could open up to a new social circle and really, truly, live a new life.
I know that when new collectors are guided in choosing artworks, it's often from the perspective of investment. But we always look at it from the perspective of the home: what kind of energy flows from the work into the spaces of your daily life? What kind of resonance does the work's meaning have with you or your life?  That's the real heart of the matter, and only after do we think about the budget.
Reding: We can tell that some of our clients won't have much of a budget for artwork, but we'll still do our best to look in their biography to find clues as to what artworks they might like. For instance, we had a client who was born in the 1960s or '70s, and we recommended a piece to him that particularly resonated: a small sculpture of Science Ninja Team Gatchaman. He liked it so much that soon afterwards he inquired about similar works to collect. We could say that through the process of working with him, we've assisted his growth as a collector.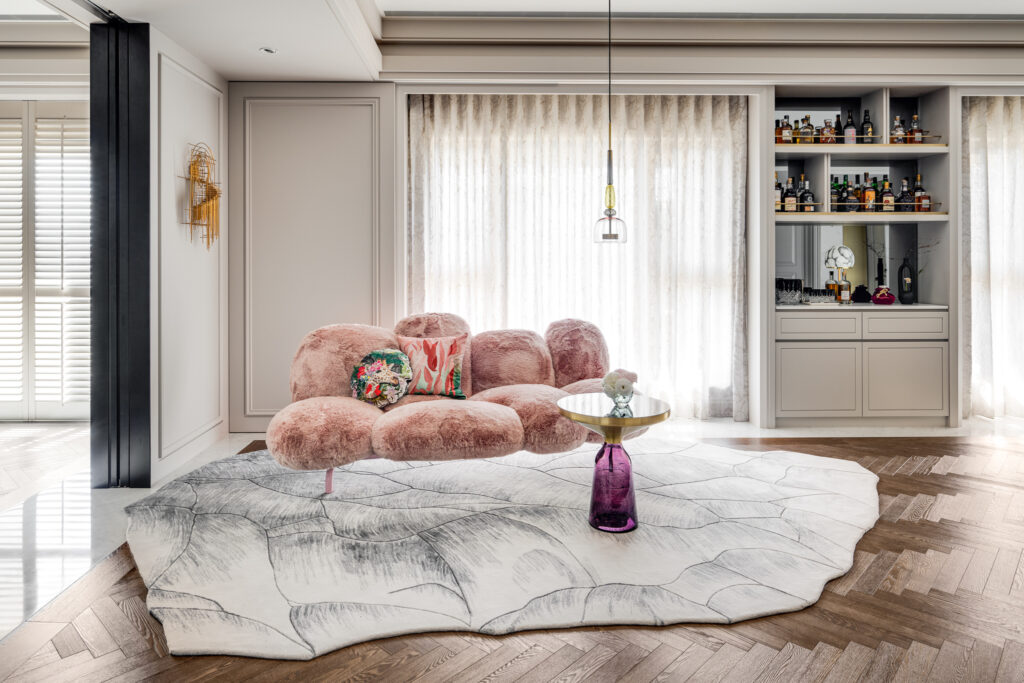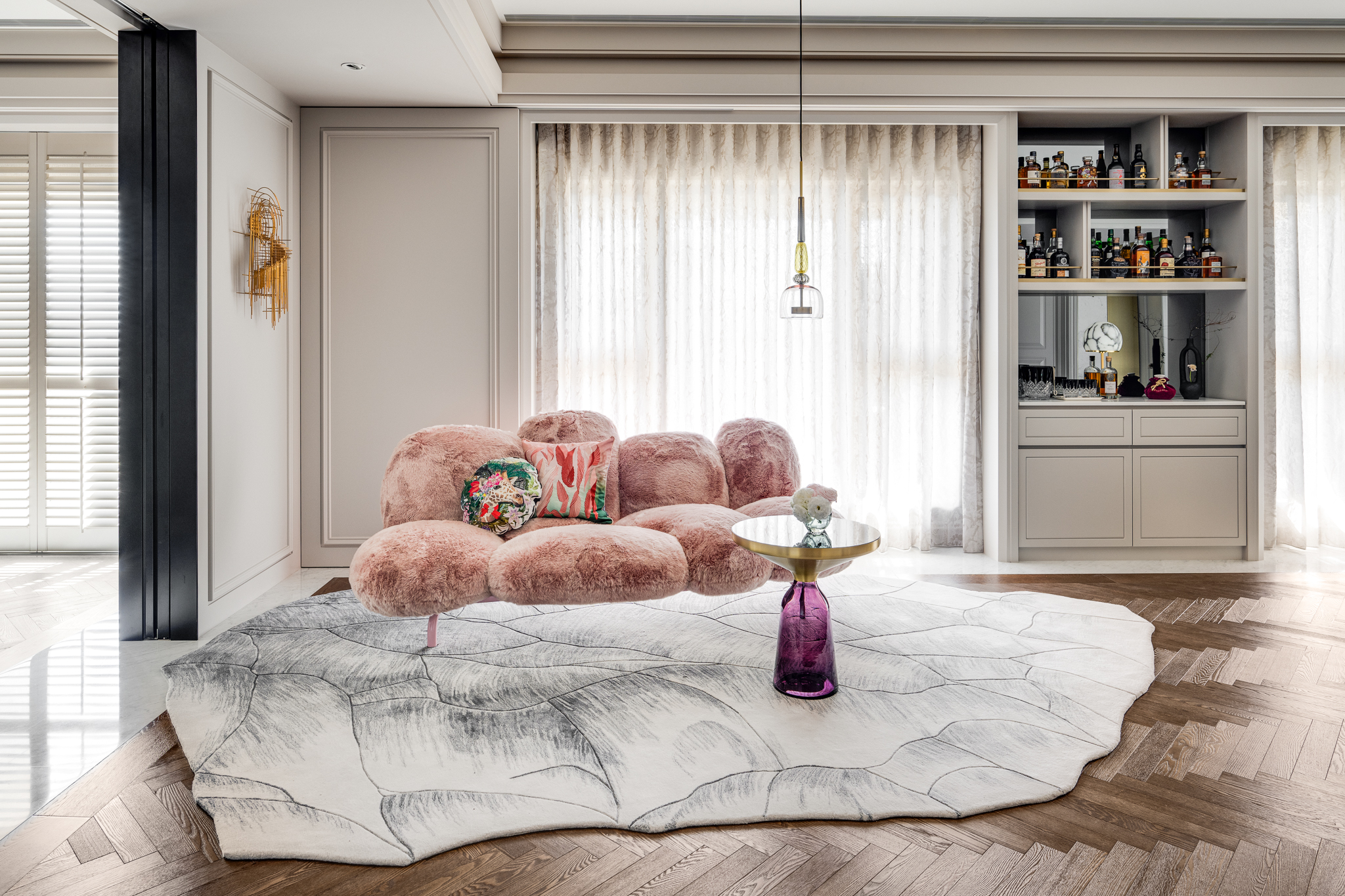 Courtesy of
L'ATELIER FANTASIA.
Idan: For my own collection, I love conceptual art and I also collect a lot of it, but it's not likely that the general client will take to it. I hope that through this year's co-operation with Taipei Dangdai, they will grow accustomed to seeing contemporary art exhibitions, and also further their understanding that art isn't only able to impact you through its visual effect — it can also be an exploration or a reaction to society's issues. In this way, they will gradually identify with it, and then move towards collecting.
Reding: I often tell Idan that this can't be rushed. Often when we are absorbed in our daily routines, we aren't  aware of what's going around us, but art's value is that it can extract these things: maybe visually, in a picture, or perhaps it's a film or an installation.This often challenges the client's imagination of art, to see it as being more than just painting or sculpture.
The beauty of art in our lives.
Idan: Yes, we could say that the artwork is the best medium to transform our five senses, and this is the direction we're always insisting on. We don't want clients to amass decorative objects in their space, but instead collect objects that harmonize with their personal experiences, that they can live with in the space.
This also returns us to the issue of appreciation. My approach to choosing artworks as a project designer is completely different than as a collector. For example, when I recommend an emerging artist to my client, the response I most like to hear is about how much they like the piece and how it has been with them through their personal growth — not about how much the work has finally risen in value.
Reding: I also consider it odd to recommend a work for its market gains. Although you can flip a work quickly, and the client might enjoy instant benefits, I think that good taste needs time to be nourished and cultivated, so that it can slowly grow.  Then only can it thrive. This is just like our design philosophy: only with the right intentions can we move in the right direction. If I were doing this just to make money, our designs and the spaces we produce definitely wouldn't fit our clients' lives successfully.
Idan: Many clients have told us later that after they moved in, they discovered many minuscule details that they hadn't ever thought about before, and their appreciation of the space grew with time. This is the result of the hours and effort we spend in consultation with them beforehand. It is only by living in our spaces well that we have the potential to be moved by art. Only then might we truly understand the beauty of art in the realm of life. It's as if we have planted a seed: the owners can start reflecting on their relationship with life, and their lives will be touched deeply. In the future, they might give more respect to other people's life experiences outside of the pursuit for success, and see that there are many things worthy of our attention — that's when the beauty of art in our lives has been truly realized.
Editor: Isabelle Kuo 
The city is constructed of buildings to provide solid structures for human habitat. Another invisible form of the city is the spiritual trait, accumulated throughout history and culture, that condenses into the aesthetic practices flowing among the habitants; subsequently, the visible and invisible properties of the city are formed within the physical and spiritual interactions. Inspired by ideas and imagination of urban aesthetics, Jut Art Museum built the entrance to its venue at the Jut Group Headquarters in Taipei City at the end of 2016 – whereas the philosophy of this museum had been established earlier to then be put into action by the team.
Valuing Knowledge over Substance

Unlike many art museums that prioritize art collections or venue facilities, Jut Art Museum starts from the intangible philosophies and pays more attention to exhibition curation and knowledge production. The museum's few art collections can be largely divided into two categories. One is public art placed around the building complex of Jut Group, e.g. Julian Opie's largescale LED installation Walking in Taipei at the northern site that plays back pedestrians moving about in the city. The Great Assistantby Marco Casagrande is a fusion between the Finnish snowman and Japanese bonsai that adds warmth to the northwest corner adjacent to the elevated expressways of Civic Boulevard and Jianguo Road. The other is commissioned artwork originated from the exhibitions at the museum.
As early as two years prior to the opening of the museum, when the location of the museum was yet to be decided, the team had already started preparing for the debut exhibition HOME 2025 to imagine our homes in ten years. After conducting a series of studies and interviews, the team invited 29 architecture studios and 20 companies to work together to debut a cross-disciplinary fusion of urban architecture, humanistic future, and contemporary exhibitions. Dr. Lee Yuling, Director of Kaohsiung Museum of Fine Arts, invited this exemplary and innovative show to be further developed into an exhibition at the KMFA in 2018. Three years after its opening, Jut Art Museum invited five international and Taiwanese contemporary artists to participate in the art exhibition Paradise Lost – Gazing at Contemporary Urban Civilization and its Metaphor between 2019 and 2020. The artists are creatively inspired by man-made ruins of various context and background to explore the destruction and rebirth of contemporary urban civilization, as well as the role of human beings in such changes.
Interdisciplinary Imagination of the Future
In contrast to art museums that comb the history of visual arts, based on the longitudinal axis of time, to focus on the large and small chronological slices for research and presentation, the importance of urban aesthetics is no less than art itself for Jut Art Museum. Rather than looking back at the past, catalyzing the reformation of the future is obviously a more critical proposition for the museum. Therefore, "urban architecture" and "contemporary art," along with "future issues," would constitute the main developmental focus of Jut Art museum in the present to investigate the future. Coincidentally, this was also the focus of Jut Foundation for Arts & Architecture (JFAA) for over a decade before the museum was established under its umbrella to progressively explore the city through various activities and exhibitions in different locations. Since then, the museum gradually took its shape based on the solid long-term relationships with various sectors of society and consistent communication channels.
An Atypical Challenge
Jut Group, a land developer based in Taipei, is the parent company of Jut Foundation and Jut Art Museum. Aaron Lee, VP of Jut Group and founder of the foundation and art museum, mentioned his expectations of the museum in an interview, "An atypical museum. We want to make it a museum without boundaries the best we can so that our exhibitions can extend beyond the physical building." The annual Off-Site Project held in various atypical environments away from the museum was the result of such an idea. In 2019, Agravic Starry Sky was jointly organized by the Off-Site Project and Songshan Cultural Park in Taipei to challenge the presentation of sound-space installation art. The museum also actively connects with other museums, such as assisting the National Taiwan Museum in setting up its digital collection for hand-drawn post-war architectural drawings and an exhibition was held in 2019. The Jut Art Museum also collaborated with Japanese and German organizations in art and architecture to launch various exhibitions in Taipei in 2020.
However, being "atypical" runs the risk of not being understood. It is relatively difficult for regular visitors of art exhibitions to clearly grasp the orientation of the museum from the multiple cross-disciplinary themes and scattered events beyond the physical boundaries. On the other hand, the strategy of a multiple spearheaded attack may be closer to the museum's long-term goal of bringing the city to a better future through a wider range of mindset changes. Huang Shanshan, Director of Operations at Jut Art Museum, having worked at Jut Foundation for many years and is responsible for the preliminary planning and museum operations, talked about the museum's vision, "There are three main directions. First, we hope to be an important platform for creativity and new ideas in Taiwan. Second, we seek to be the catalyst to enable different industries and generations to exchange, coagulate, and produce chemistry with each other. We also hope that the museum will become a think tank through the exhibitions, publications, video production, and urban studies to provide active thinking and nutrients that inspire Jut Group and the public."
Creating Intangible Value
Compared with the public art museums in Taiwan and the various cultural institutions receiving government subsidies, Jut Art Museum is a private organization that enjoys a high degree of freedom in its operations. When it comes to the limitations and advantages of the museum, Huang Shanshan said, "The venue and resources are the biggest limiting factors, and flexibility is our greatest advantage. The best thing about working with the CEO is that he always pays attention to quality and expects us to create value, not money or bigger numbers."
The museum has put a lot of effort into education through various seminars, workshops, film screenings, and visiting tours in pursuing dialogue and accumulating ideas. For example, the ZERO CITY– Marco Casagrande: Who Cares, Wins the Third Generation solo exhibition is a collaboration between Jut Art Museum and Xin Media where Marco Casagrande would lead a tour that starts from the Jut Art Museum and ends up at his work Ultra-Ruin, a private residence hidden deep in the suburban mountains of Taipei. Agravic Starry Sky—Off-Site Project, in collaboration with the LAB Activation Plan, happened at the Songshan Cultural Park and Jut Art Museum where artist Wolfgang Buttress and the music band BE would recreate the sound library of stars in the sky. Wang Fujui combined the local characteristics of Taiwan to compose the starry soundscape of the island on site with the team, and Ajohn Chen's spatial beam installation Rendezvous II itself is highly interactive with the audience. The various live performances and discussion panels have shortened the distance between art and the public through these shared interactive activities.
The museum has also developed the unique "Teacher Network" and "Campus Ambassador" programs for schools. School teachers can share teaching and guided resources on the "Teacher Network" and around 35 teachers have participated to influence nearly 2,000 students visiting the museum in a year. High school and college volunteers are interviewed and recruited through formal applications as "Campus Ambassadors" to help promote the museum exhibitions and artist exchange events at school campuses.
Indeed, land developers are watched closely by the society. In terms of wealth in cultural capital, if used properly, they become one that is most capable of supporting arts and culture. Jut Foundation started relatively early in trying various ways to promote aesthetics and trigger creative thinking, carrying forward its practice in the form of an art museum.
Editor: Ying-Hsuan Tai
Chinese painting focuses on the spirituality of ink and brush, prioritizing feelings of aliveness not only in visual presentation but also reflecting an inner energy. The painting manifests in visual form the interiority of the painter. Historically, many ink painters chose to live in seclusion in nature. The only company they kept was poetry, literature, and painting. Artists in the late Ming period painted mountains and rivers, combining reality and their imagination to express frustration with and anxiety around social instability. Similarly, for artists today, a landscape is never simply a depiction of nature.
In recent years, artists have turned to ancient styles of ink painting as a place for innovation, often turning away from traditional brushes and rice paper. This new style presents the landscape in a different way, with a contemporary mentality emphasizing synchronicity and mixing the past with the present.
Yao Jui-Chung's Ballpoint Landscape

Yao Jui-Chung, Vimalā-bhūmi: Nāgārjuna's Middle Way, 2019. Gold leaf and ink pen on Indian handmade paper, 199.5 x 458 cm, 6-panel screen. Courtesy the artist and Tina Keng Gallery.
Yao Jui-Chung started to reinterpret traditional ink painting in 2007, when he was an artist in residence at Glenfiddich in Scotland, where he enjoyed a hermetic lifestyle. The ballpoint pen doodles he made to kill time inspired him to think about the relationship between man and nature, which led him to create the alternative landscape that he is not known for.
Yao's paintings were made with ballpoint pens instead of traditional ink brushes. His landscapes, composed of a large number of lines painstakingly interwoven and piled up, are magical and almost neurotic. He once quoted Chinese poet Li Shangyin, "Silkworms spin till the end of their living days," indicating the dedication and desperation in the works. The backgrounds of the landscapes were filled with gold leaf. Like Buddhist cave paintings, ballpoint blue and gold leaf together constructed the bright landscape in the work.
The compositions in Yao's landscape paintings are mostly drawn from classic paintings of Chinese art history, albeit with a biographical slant. The series "Life is but a Dream," for example, portrays eight important moments in his life, including his wedding and the births of his two daughters, humorously transforming the traditional landscapes. In copying the form of ink paintings and adding personal stories, he transforms tradition while retaining its spirit, mixing past with present.
Wu Chi-Tsung's Image Landscape

Wu Chi-Tsung, Cyano-Collage 038, 2019. Cyanotype photography, Xuan paper, acrylic gel, 180 × 180 cm. Courtesy the artist and Galerie du Monde.
Since 2012, Wu Chi-Tsung has been making image landscapes. He uses cyanotype, an early photographic printing process, to reinterpret the wrinkles in traditional ink paintings. For the series "Wrinkled Texture," Wu directly applied photosensitive material to rice paper and exposed it under the sun for around 30 minutes, during which he continuously adjusted the layers and folds of the paper, before finally fixing the images. This method added light and shadow to the photograms, aspects not commonly seen in traditional ink painting.
For the series "Cyano-Collage," created in memory of the artist Ni Tsai-Chin, Wu combined Ni's signature method of ink collage with cyanotype to create a series of magnificent, large-scale montage landscapes.
Wu replaced brushes and ink with the photogram to construct experimental contemporary image landscapes, reinterpreting the concept of nature in Asian culture. In photography, there is a relationship between the photographer and the photographed. When there is no camera involved, the action of wrinkling paper plays a key role in generating the images, adding an element of performance into traditional landscape painting.
Shi Jin-Hua's Pen-Walking Landscape

SHI Jin-Hua, Pen Walking#168, 2018-2019. Pencil, paper and document, 98 × 187 cm. Courtesy the artist and Mind Set Art Center.
Known for his conceptual practice, Shi Jin-Hua uses his body as a medium, measuring the world while exploring the relationship between art and existence. In 1994, one of his pens was running out of ink, so he took a piece of blank paper and scribbled until the ink was completely dry. Beneath the unconsciousness of this act, there is consciousness in flux. As in yogic spiritual practice, the body moves along with the pen, "walking" the time back and forth. The hand holding the pen can be seen as the epitome of Shi's life, marking down the traces of living.
"Pencil Walker," the series Shi Jin-Hua started in 1996 and has continued until today, is his most iconic work, reflecting both his art practice and life journey. In the recent series "Pen Walking (Mount Kailash Pilgrimage)," Shi used the body of the pencil to complete the Mount Kailash pilgrimage on paper. Originally a Christian before becoming a Buddhist, he was unable to make the pilgrimage in person, so he decided to draw the outline of the mountain in black pencil, making the body of the pencil his own.
For "Pen Walking #169: Snow Peak under Moonlight," Shi soaked the paper in ink, then used a white pencil to draw a mountain covered in snow. Shi only drew at night when the moon was visible so he could imagine climbing the mountain under the moonlight. Through this spiritual journey, Shi was able to walk to the peak of the mountain at 6,600 meters above sea level, immersing himself in the everlasting world. Shi Jin-Hua exhausted the life of a pencil to document every step he made, combining physical labor and spiritual realization to conquer the vast world and liberate the mind.
Conclusion
Whether Yao Jui-Chung's ballpoint landscape, Shi Jin-Hua's pen-walking landscape, or Wu Chi-Tsung's image landscape, these three artists have directly or indirectly transformed traditional Chinese painting, liberating the ink style by discovering alternative conceptions of beauty in nature. Conceptually, all three artists preserve the spirit of traditional painting, and add elements of physical labor to their work. As viewers we can enjoy mountains, rivers, trees, grass, the moon and the sun even without recourse to nature; these artists use their pens and hands, drawing, wrinkling, and piling up lines and folds, an eternal and powerful landscape for the contemporary moment.
Reference:
"Long live the landscape, Reading the pseudo landscape", Yao Jui-Chung
"An assumption of reality and its traces – the poetic observation of Wu Chi-Tsung", Lin Yi-Hsiu
"Shi-Jin Hua: The walker in the whirling world", Sun Xiaotong
Editor: Isabelle Kuo
Military facilities built in Taiwan during the Cold War have been gradually retired. Some have been transformed into cultural spaces. The former Air Force Command Headquarters is currently run by Taiwan Living Arts Foundation under the name Taiwan Contemporary Culture Lab (C-LAB), affiliated with the Ministry of Culture. This experimental cultural lab aims to incubate contemporary creativity. ALIEN Art Centre in Kaohsiung is another example. Kin-ma Military Hostel is currently run as ALIEN Art Centre. After two years of planning and renovation, it opened its doors to the public as a contemporary art museum at the end of 2018.
The permanent exhibitions are in three galleries on the ground floor. The first contains Crossing by Hong Kong artist Kingsley Ng. Commissioned by ALIEN Art Centre, Ng spent two years interviewing many veterans, before etching extracts on timepieces made by the artist. Some are left empty for potential new words from the present or future, making the project an ongoing participatory time capsule. It is a contemplative space, inviting the audience to reflect quietly on the instability of the past. Diamond, by James Turrell, is a poetic space generated by light. A third gallery has been transformed into an archive to showcase the history of the site and the institution, curated by Taiwanese documentary director Pu Chen. This combination of permanent installations shows ALIEN Art Centre's ambition to present the history of the site alongside contemporary art.
Apart from these installations, other exhibitions have included solo exhibitions by photographer Juan I-Jong, Ton Fan Art Group member Hsiao Chin, Gutai artist Shozo Shimamoto, German jewelry designer Franz Bette, and Japanese-German artist and jeweler Jiro Kamata, as well as a group exhibition featuring emerging artists Lo Yi-Chun, Kao Ya-Ting, and Tang Ya-Wen. These exhibitions span disciplines from art to design, geographies from west to east, and periods from mid-century to present, giving voice to the Centre's unique perspective in appreciating contemporary art from various angles.
For ALIEN Art Centre, being international is not about geographical borders, but rather common values shared across different cultural backgrounds. Yaman Shao, CEO of ALIEN Art, says, "We are not communicating with the world to compete with other local institutions. Instead, we are opening a window, introducing the world to our home, so that our people can be seen by the world and, most importantly, we can see the world from here. It's a two-way communication. We might not see the results immediately, but eventually we will be recognized." A detail-oriented approach to execution is evident in the research, planning, installation, and publication of each exhibition since its opening.
Kaohsiung, Taiwan's second city, was once called a cultural desert better known for its manufacturing and shipping industries. In recent years, however, many factories have relocated elsewhere, creating large areas in the city waiting to be developed. Lead by Kaohsiung Museum of Fine Arts along with Pier 2 Art Center and National Kaohsiung Center for the Arts, the city has consciously strengthened its cultural development. Many artists, some internationally active and many known for their energetic and distinctive styles, have lived in Kaohsiung since before these institutions opened. As a new high-quality private art museum, ALIEN Art Centre brings a broader perspective to the city, as Shao says, "I see opportunities in imperfection, thinking about how we would like our city to be. The aim of art is to bring positive energy to people, so that people can get joy and encouragement out of it." Local creativity that cannot be seen elsewhere can also be developed here, attracting visitors from all over the world.
Editor: Ying-Hsuan Tai
Since 1980, art history has been written based more on exhibitions than on groups or movements. Biennials are the most significant exhibitions of them all, playing a leading role in the aesthetics and politics of art. It started with the Venice Biennale, which used the form of the art festival to gather art from around the world on the island of canals, not as a competition but as an event to generate conversation and exchange.
The number of biennials started to grow after the fall of communism in eastern Europe in 1989. They have gradually augmented or even replaced the role of museums in presenting experimental conceptual art. Due to its national pavilion system, the Venice Biennale has become the landmark of international art exchange since the 1990s. Although it has become more of a carnival in the 21st century, the biennial still plays the leading role in the global art scene. Artists who exhibit draw attention through their participation, including in the market.
Taiwan has participated in the Venice Biennale since 1995. Since then, many Taiwanese artists who have participated in Venice or other biennials have been active on the international stage. We can see their works, which explore global issues based on personal contexts, in different biennials internationally. For example, artist Chen Chieh-Jen, who explores colonization, globalization and capitalism in his work, has participated in the Venice Biennale three times. His Empire's Borders I, exhibited at the Taiwan Pavilion in 2009, focuses on global imperialism, discussing the violence of language and inequality under bureaucracy from the perspective of immigrants. Revolt in the Soul & Body (1996-1999), exhibited at the Taiwan Pavilion in 1999, is an iconic project. The series is based on 13 historical photos depicting torture or massacre. Through digital manipulation, the artist replaces the victims, oppressors, or bystanders in the photos with images of himself. Chen discusses not only history, but also what is forgotten and silenced. To quote Chen: "Looking at history that was deleted is like looking at another contemporaneity hidden in the present. The two need to continuously explore each other."
Also about history, Marshal Tie Jia (Turtle Island) by Hsu Chia-Wei, exhibited at the Taiwan Pavilion in 2013, uses multiple narratives to interlace the present with the past, mixing personal memories with official history. Hsu is also interested in forgotten histories. He believes that history is subjectively written, not a documentation of reality. Through images, installations and short fiction, Marshal Tie Jia (Turtle Island) traces the birthplace of its titular figure to a pond in Jiangxi, exploring the relationship between myth and popular culture and inviting the audience to redefine the meaning of history.
In 2018, Hsu Chia-Wei's Ruins of the Intelligence Bureau was exhibited in the Biennale of Sydney. Interweaving reality with mythology, documentation with fiction, the film describes an intelligence bureau to explore complicated issues of identity, collective memory and imagination. As curator Mami Kataoka said about the biennial, "An exhibition should present how human interprets history, and redefines art history and contemporary art."
History is never behind us. Everything that happens in the present is closely connected to the past, which becomes a part of us. Taiwanese artist Yuan Goang-Ming revisits utopia, looks at war in the context of everyday life, and explores the present and the future. Yuan started working with video in 1984. His work examines how images present the reality we live in, visualizing otherwise invisible social issues in our day-to-day life.
In Yuan's Landscape of Energy, exhibited at the Biennale de Lyon in 2015, the audience is invited to visit peaceful wonders such as ruins, nuclear waste repositories, abandoned playgrounds, and a nuclear power plant next to a beach. as the lens slowly pans from one deserted site to another, seemingly ordinary with a smidge of eeriness, as if something is about to happen.
The work refers to the damage caused by nuclear power, as art critic Huang Hai-Ming described, "…to observe the threat to humanity from everyday life." In examining these images in a poetic way, Yuan Goang-Ming gently leads us to look at the coming threats to society.
Chou Yu-Cheng's work, the most recent of which is titled with hashtags, has been seen in various biennials. Through mixed media and ready-made objects, he interprets the relationship between aesthetics and society, examining the sources of information, visualizing economic issues, presenting sharp and poetic insights into consumerism, capitalism and the social and ethical relationships within this system.
In Chou's Chemical Gilding, Keep Calm, Galvanize, Pray, Gradient, Ashes, Manifestation, Unequal, Dissatisfaction, Capitalize, Incense Burner, Survival, Agitation, Hit, Day Light, exhibited at the Liverpool Biennial in 2018, a slab of galvanized steel located at the entrance to St George's Hall was dented by visitors throwing rocks at it to reflect protests and movements around the world. Chou also shared his insight into Taiwanese society in the work. Chemically treated plates, common in Taiwan, are a metaphor for the temporary and contradictory mentality caused by high mortgage rates and low incomes. The material might look glamorous but, in reality, it is cheap and easily replaced. What's underneath the seemingly strong surface is all the stress it bears. These words are used to describe our mental states: anxiety, resistance, and prayer, continuously cycling over and over. Isn't every life under capitalism like this?
Looking back at the past ten years, biennials have focused on the violence of capitalism, the acceleration of technology, the crisis of the environment, the suffering and separation caused by wars. Many signified collective anxiety through their titles: "The future is already here – it's just not evenly distributed", the "Beautiful world, where are you?", and "May You Live In Interesting Times". Taiwanese artists active on the international stage react visually to the current global situation through their own contexts, reminding the audience not to look away, but to look closer in, asking the question of who we are, and how to make our voices heard, loudly and clearly, at this urgent time.
References
"The threat hidden in the positive daily experience – 'Tomorrowland', The solo show of Yuan Goang-Ming at TKG+ in 2018", Huang Hai-Ming, the website of Taishin Arts Award, 2018.04.13
"Image crystallization under the rumination of Life – The radical experiment in Yuan Goang-Ming's Tomorrowland", Yan Xiaoxiao, ARTCO Monthly, April 2018
"The body image in the scene of death – the creative force field of Chen Chieh-Jen", Wang Pin-hua, ACT 41, January 2010
"Break the unity of art – the compound aesthetic of Chou Yu-Cheng", Kitty Lam, Art Collection, August 2016
"An Act of Seeing, an interview with Chou Yu-Cheng", Esther Lu, publication of the exhibition "Never odd or even"
Image: Chou Yu-Cheng 周育正, "Housekeeping《家政》, 2017, FRP (Fiberglass), Bowl: Diameter 120 cm, Height 60 cm/each, 6pcs; Plate: Diameter 160 cm, Height 30 cm/each, 6 pcs; Chopstick: Diameter 7 cm, Courtesy of the artist and Malingue Gallery 圖片由馬凌畫廊及藝術家提供
Editor: Isabelle Kuo
In the area of new media, Ars Electronica Festival in Linz, Austria, has been in the leading position for decades. Videonale in Bonn, Germany, is another benchmark festival. Proyector – Festival de Videoarte in Madrid, Spain, focuses on communicating with the public with experimental projects. STRP Festival is a biennial held in Eindhoven, Netherland, focusing on international exchanges. Japan Media Arts Festival, held by Japan's Agency for Cultural Affairs, brings animations, games and digital arts together. In Beitou, Taiwan, Taiwan International Video Art Exhibition (TIVA), held every two years by Hong-gah Museum, has started to gain the international attention it deserves on its curatorial themes that reflect the experiences of the era and the well-designed duo-curator system. Its 6th exhibition, "Offline Browser", which just ended at the beginning of 2019, was curated by Hsu Chia-Wei and Hsu Fong-Ray, who invited the works of Harun Farocki and Hito Steyerl to the exhibition. Compared to its 4th and 5th exhibitions, which received 235 and 358 applications through the open call respectively, the 6th exhibition received 574 applications from 59 countries, mainly Chinese-speaking and European countries, which shows the increase of reputation and impact accumulated internationally during the 10 years of the festival.
The energy of video art, small but shining
Video art is not only one of the strengths of Hong-gah Museum, but also a form of art  that was done excellently in Taiwan as a result of the advanced technology of the island and the New Wave in Taiwan cinema in the 80s and 90s. When Hong-gah Museum moved to the current address in 2008, the structure of the festival, a curated exhibition once every two years with an open call under the duo-curator system, was decided between the museum and Chen Yung-Hsien, who was teaching at Multimedia and Animation Arts Department at National Taiwan University of Arts. The first TIVA, "Dwelling Place", was born in the same year, curated by independent curator Sean C. S. Hu and Chen Yung-Hsien, as the first long-term exhibition projects in Taiwan focusing on video art.
From the earliest theme, diet and accommodation, to the latest edition that explored how the internet influence the way we think, the theme of each exhibition is closely connected to the living experience of the time, which shows the ambition of the museum to connect contemporary art to the public. Located inside an office building, the museum is not particularly spacious, however, with two-year-long preparations and discussions between the curators and the museum, it continuously delivers small but exciting exhibitions, presenting interesting perspectives and debates with detail-oriented executions. TIVA has become something that we look forward to every two years. The 7th TIVA, which will start at the end of 2020, will be curated by independent curator Eva Lin and the director of research division of Taiwan Contemporary Culture Lab (C-LAB), Wei Yu. For the first time, the exhibition will be held at two venues, Hong-gah Museum and C-LAB. The curatorial team has started the preparation, and the open call was announced in December 2019.
Creating interdisciplinary conversations
In fact, in as early as 2004, the founder of Hong-gah Museum, Chiu Tsai-hsing, had launched the NCAF Techno Art Creation Project (2004 – 2008) with Acer Foundation and Lite-On Cultural Foundation. It supports projects of new media art, which is considered as the predecessor of TIVA. It had supported many active new media artists, such as Hsin-Chien Huang, Lin Jiun-Ting and Llunc Lin.
The openness can also be found in the collection of the museum. Apart from a small-scaled collection of contemporary artworks, another specialty of Hong-gah Museum is its embroidery collection, which is the most complete private embroidery collection in Asia. Centered on the classics works from Suzhou Embroidery Museum and HunanEmbroidery Museum, the collection includes more than 500 pieces made after the 1950s with diverse styles and techniques. Additionally, the museum also has a number of calligraphy and ink paintings by different generations of Taiwanese artists in its collection. A large part of it was auctioned in 2017, and the revenue generated was used to fund the museum's operation. "We have very different groups of audience. And they don't really overlap." said Po-Chi Su, the director of Hong-gah Museum. "The audience who likes paintings from earlier generations of artists might not like the beauty of the embroidery. The audience who likes embroidery would wonder why the exhibition space is so dark while entering our video art exhibitions." In this case, Hong-gah Museum is facing a rare challenge of communicating with the diverse groups of audience. "We have carried out different attempts to promote the exhibitions. Sometimes we target different groups of audience, other times we try to bring people together."
Another task of the museum is to activate its collection, encouraging interdisciplinary collaborations. "For example, apart from being a form of craft, embroidery also requires intense labor, which can be included in the current debates about labor in contemporary art," said the director Su. This has led the museum to invite artist Hou I-Ting, who has been discussing labor and body politics in textile industry in her works, to re-interpret the embroidery collection through contemporary perspectives in the exhibition "Sewing Image – An Experiment in Hong-Gah Museum Collection".
Twenty years in Beitou
Since its launch, Hong-gah Museum has been located in Beitou, on the outskirts of Taipei. Known for its light industry, the area does not have as many art activities as urban Taipei, instead, it has a rich local history. Apart from the exhibitions, Hong-gah Museum also hosts various courses, bringing audience from the local community to the museum. There are four exhibitions held in the main exhibition space each year. The first exhibitions have always been directly related to the local community. Beitou Local Flavors Collecting Projects and Beitou Local Image Collecting Projects are two examples. Through curating, comparative research and field research, "Herbal Urbanism", is another series of exhibitions at Hong-gah Museum, curated by Manray Hsu in recent years, aiming to explore the unknown sides of Beitou. Moreover, the museum also actively connects and collaborates with other organizations in the area, such as Beitou Hot Spring Museum and Taiwanese Yueqin Folk Song Association. Su said, "Hong-gah Museum not only invites the audience to the museum, furthermore, it walks out of the museum, participating in the community, playing roles other than the role of a museum."
Video art, collection activation, and community development, are the three major tasks of Hong-gah Museum at the current stage. As the artworks and theories of contemporary art are both constantly being explored, updated and challenged, which make contemporary art harder to comprehend for the public. "The priority of the museum is to spread the right message and create an environment that allows the audience to perceive it in its own preferred way."
Image courtesy: Hong-gah Museum
Editor: Ying-Hsuan Tai
In the autumn of 1996, Yao coincidentally encountered the Sotheby's auction preview at Eslite Dunnan, and acquired Zebra by artist Liu Chi-Wei, which kick started his journey of collecting.
Collecting art is an obsession, and an addiction. But, for Yao, it is not as impulsive as it seems. He has been interested in reading about art for years. Zebra, the painting by Liu Chi-Wei, is a visualization of the artist's experience living in Africa, which was what attracted Yao in the first place. Yao has been passionate towards art since childhood. He loved drawing. Even though he didn't continue to draw, he never stopped appreciating art. Art is something that supports him spiritually.
As a famous lyricist and a music producer, Yao was important figure in supporting the careers of many celebrities. At the peak of his career, work occupied most of his time, leaving him no space to breathe. More recently, Yao decided to take control over his own life. He moved to the quiet suburbs of Taipei. There, writing, music and art are part of his everyday life. Having more time for himself allows him to understand the true meaning of life.
Walking through History
The biggest influence that art collecting has on Yao Chienis that it encourages him to read more. Before collecting, he reads about art history, the backgrounds of artists, the era, philosophy and the literary context of art. The Penitent Magdalen by Peter Paul Rubens is a 17th-century painting Yao acquired this year. The painting was confiscated from the original owner, a Jewish collector based in Berlin, by the Nazi party during the Second World War, before entering the collection of a museum. When the descendants of the original owners of works like these cannot be traced, they are auctioned, looking for new owners. Yao is one of them.
Yao studied Rubens for years, which opened his interest towards Baroque painting, triggering him to rethink our relationship with history. Why did the painter choose the subject or composition? Was the purpose to serve royalty or religion? Asking questions about the artist and the era allows him to think about time and history. Art and its context are inseparable. We need to understand the context in order to see art clearly in the present. For Yao, art is the most honest form of history, "I believe history was written by winners. Only through art, you can see the real, personal history. This is the way I understand how people valued things in the past. The details are hidden in the paintings."
Apart from the masterpieces from the West, Yao collects a variety of artworks, from classical to modernism, from postwar to contemporary, from sculpture to installation. Funakoshi Katsura, the Japanese sculptor, is one of his favorites. Yao first noticed his work in the 1990s. At the time, he was working in Japan. He saw a poster for one of Katsura's exhibitions at a metro station, and decided to visit it. Since then, Yao collected Katsura's exhibition catalogues, and, now, Yao owns a large sculpture of his. Katsura shows the elegance of human bodies, and also presents the souls inside. What attracts Yao is how Katsura is inspired by religion and myth, and how he looks at Western sculpture as an artist from the East. Both Buddhist forms and Western structures appear.
Yao also appreciates Antony Gormley. His work examines human nature, as well as our relationship with our surroundings. Present Time, installed in Yao's backyard, is an extension of the classic series he made in the late 1980s. The work resembles a pair of human bodies. The two subjects are connected in a way that their bodies extend from each other at the spot where their heads should be, reminding us of the connection between our minds and actions.
Yao once mentioned that the way Gormley used his own body to measure the world is what he appreciates the most. In Gormley's recent series of cast iron sculptures reflecting the digital era, even the appearance of the human body seems different from earlier works in which the body of the artist was still the fundamental unit. By combining and deconstructing geometry, the artist continuously explores the potential of sculpture, examining the relationship between body, time and space. These two sculptors invite Yao to cross time and borders, revisiting history and exploring how different cultures and aesthetics influence the ways artists think. Learning through art is one of the reasons Yao can't stop collecting.
Combining Art and Life
Yao's journey of collecting comesfrom his passion towards art, in everything from researching to taking care of the works. He has turned art into a part of his life. In recent years, he has spent most of his time travelling and reading, which is reflected in his art collection. Art definitely comes from life, but it doesn't mean that we need to live our lives in an artistic way. Instead, Yao observes beauty inthe details of everyday life, and, from there, builds a relationship with art. "If we pursue the depth of life, we naturally know what we should have in our lives. Art comes from life, it does not decorate life."
Through experiencing different cultures while travelling or through immersing oneself in books, Yao believes that our lives reflect how we think, which is never only about aesthetics. He believes that we should fully consider how we live our lives and our relationships with the world. Yao'scollecting philosophy is closely connected with time. The past is carried forward by art, and the present is created through collecting. The future depends on how we interact with the works. Through the eyes of artists, Yao believes that he can see a more vivid world than he can imagine.
References
A Person's collection (2015), Yao Chien, published by Chinatimes
The interview with Yao Chien, December 2019
The interview with Yao Chien, YIT
Link: https://www.facebook.com/watch/?v=901067593412329
"Yao Chien: Collecting is based on reading. Art is the best crossover."
Link: https://kknews.cc/culture/lnor4v9.html
Image courtesy: Yao Chien.