Taipei Platform, an original non-profit program taking place inside the Fair venue, offers an expansive view of the local cultural ecosystem, realized through three different formats: screening, workshops and a pop-up library.
台北開放平台位於台北當代藝術博覽會場內,是台北當代原創的非營利企劃,提供在地文化藝術生態面面觀,本平台由三個部分組成:放映活動、工作坊與快閃圖書館。
Screenings organized by OUR PLACE | 錄像放映,由Our Place我們家策劃
Taipei Dangdai's screening event takes place at Taipei Platform, organized by Our Place 我們家.
本屆台北開放平台的放映活動,邀請 Our Place 我們家策劃。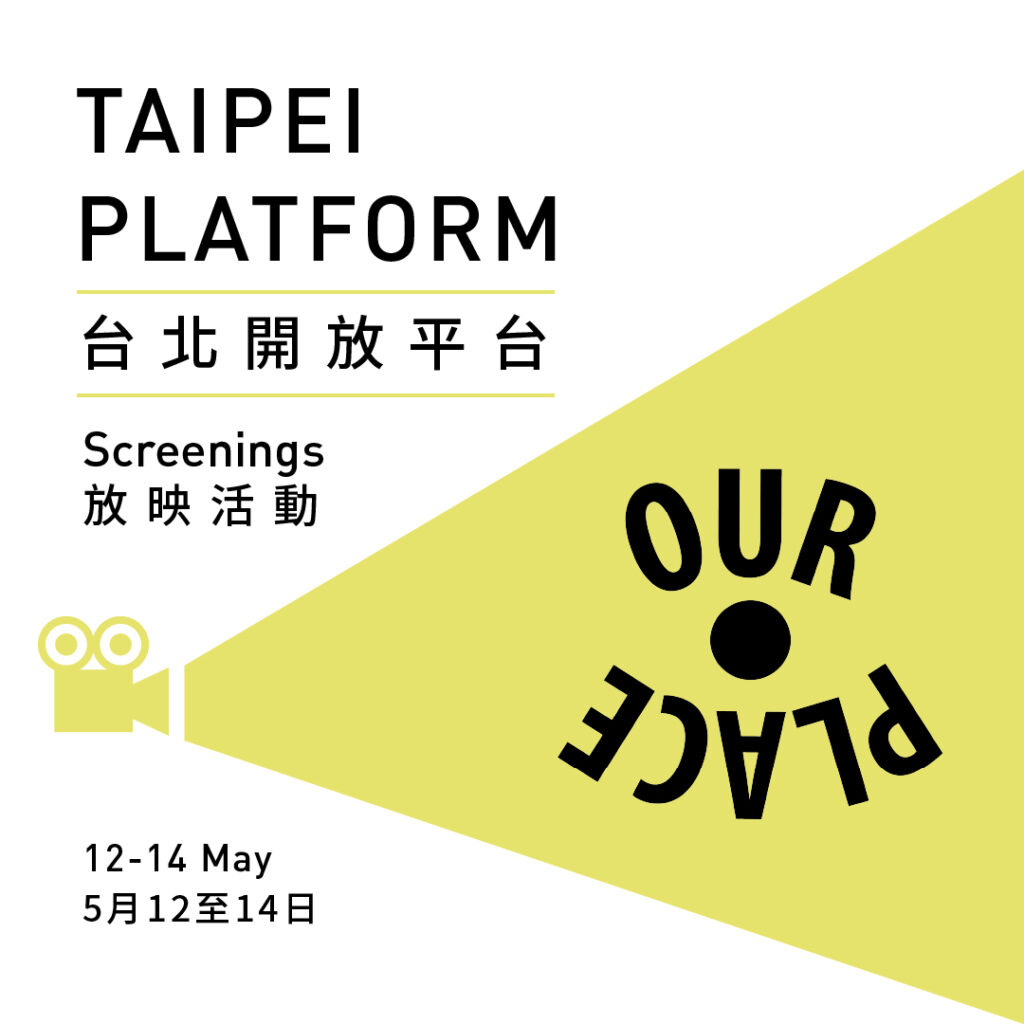 Our Place 我們家 invited three Taiwanese artists whose works examine the residue of the intricate cross-national history. Through looking for the missing Goddess of the Sea from the old Chinatown in London, through re-encountering Grandmother's painting in a Chinese restaurant in the USA, through renaming the streets infused with colonial 'heritage' in Berlin, in "Looking for Chinatown" by Ting-Ting Cheng, "This Shore" by Tzu-An Wu and "Café Togo" by Musquiqui Chihying, we, as audience, are invited to travel within the personal yet political narratives geographically. 
「Our Place 我們家」由台灣藝術家鄭亭亭發起,邀集了三位台灣藝術家作品,試圖尋找當代場域下跨國歷史的殘留物。
在鄭亭亭的《 尋找中國城 》、吳梓安的《 此岸 》和致穎的《 多哥咖啡 》中,我們跟隨著影片中的藝術家,在倫敦的老中國城尋找失蹤的海之女神,在美國的中國餐館巧遇祖母的畫,在柏林街道重新拜訪不忍直視的殖民歷史,穿梭於地理上的過去、現在與未來。
About Our Place 我們家
Our Place 我們家is a domestic art space established in early 2022, dedicated to creating an intimate art space, introducing interesting local and international artists to the audience in Taipei. They hold screenings, workshops, talks and short-term artist residencies.
關於 Our Place 我們家
Our Place 我們家是由台灣藝術家鄭亭亭和巴西動畫師Fabio Sayegh,在台北經營的居家藝術活動空間,成立於2022年初,旨在創造一個親密且有彈性的藝術活動空間,同時將國內外有趣的藝術家以沒有壓力的方式介紹給台北的觀眾。Our Place 我們家不定期地舉辦放映會、工作坊、講座和藝術家短期駐村。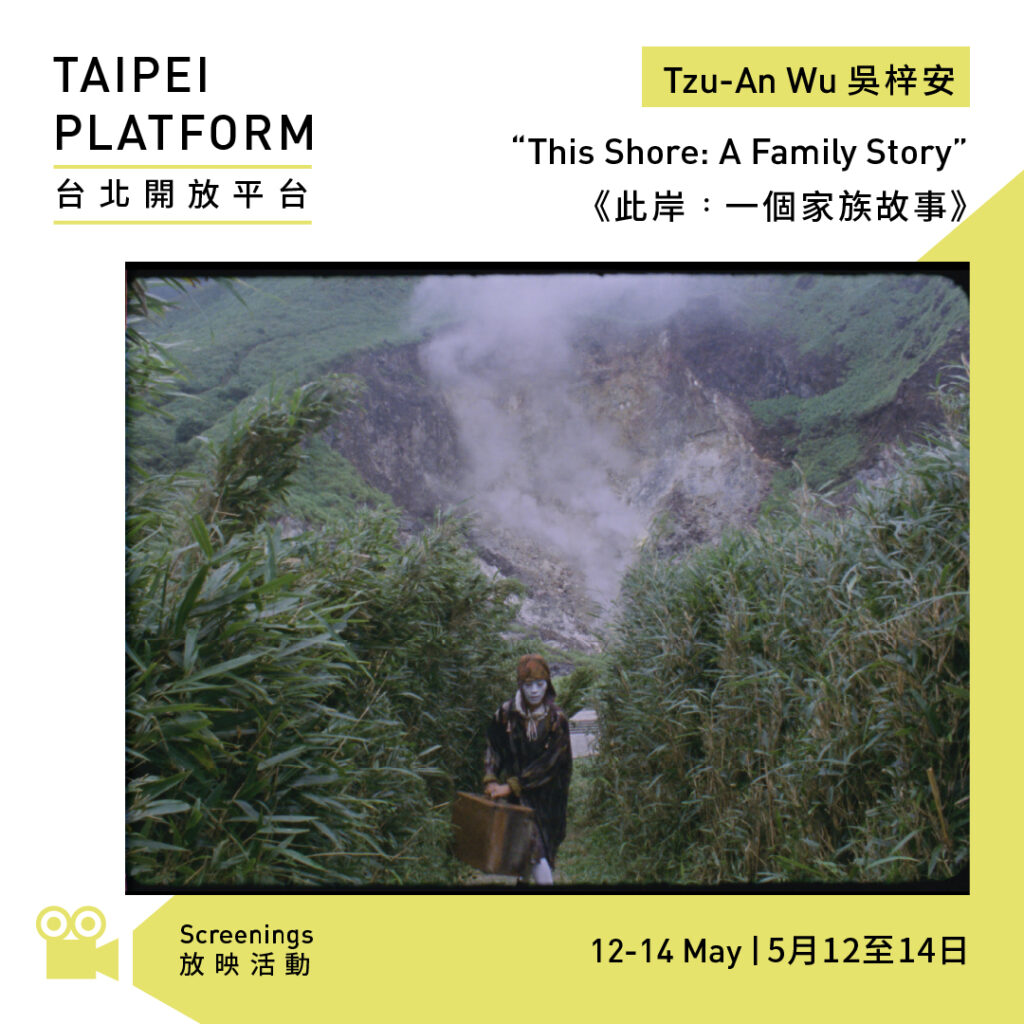 此岸:一個家族故事 This Shore: A Family Story,吳梓安 Tzu-An Wu,2020,16mm, Super8, VHS, Digital Video,62 minutes
THIS SHORE is an experimental documentary that opens with a family anecdote: When coming across Grandmother's painting in a random Chinese restaurant in the States, the aunt of artist Tzu-An Wu burst into tears. The film wanders through Cold War constructions, Taiwan–United States relations, generations of diaspora, family romances, and ghost stories. While the personal and collective memories are transformed into another tale of "the Flying Dutchman", doomed to sail the oceans forevermore.
以個人的家族故事開始:藝術家吳梓安的姑姑偶然地在美國某地的中國餐廳遇見了奶奶的畫作,假藉追溯故事,本片在不同的主題間晃蕩:冷戰、不同世代的離散與流動、家族羅曼史、鬼故事。

Tzu-An Wu works between experimental film and its expansions. He makes collages with analogue films, through mixing heterogeneous images, audio, and texts in an attempt to inquire about the constructs of (cinematic) narratives and the selves. His works have been shown internationally, including BFI Flare (London), IFFR (Netherland), CROSSROADS (San Francisco), Golden Horse Film Festival (Taiwan), TIDF(Taiwan) and more. He also does programming of experimental cinema.
吳梓安從事實驗電影的創作、推廣、研究與擴延。他以Super 8和16mm膠卷的技法,拼貼異質的影像、聲音與文本進行創作,質問電影敘事與自我建構。曾參加倫敦BFI Flare影展、鹿特丹影展、台灣錄像雙年展、台灣雙年展、馬尼拉大都會美術館等。亦參與策劃各種實驗電影映演活動。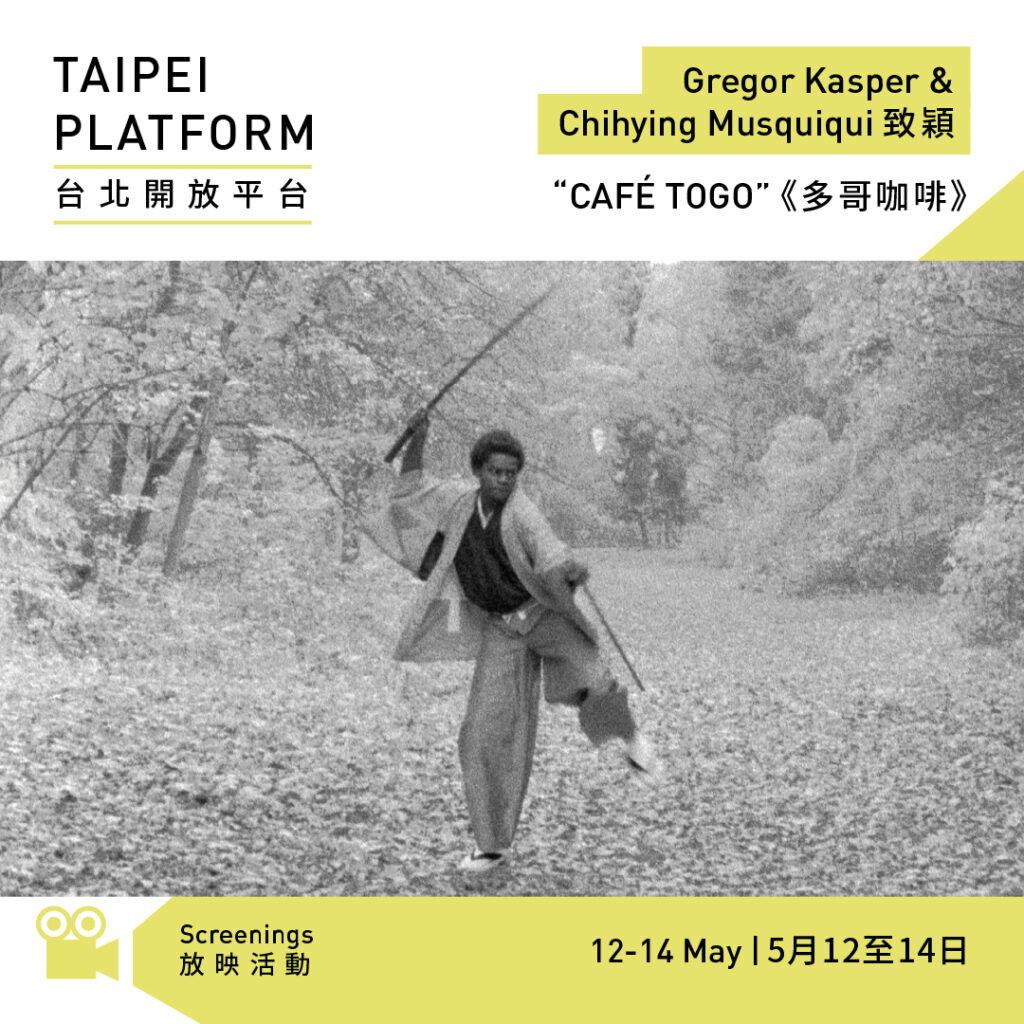 《多哥咖啡》CAFÉ TOGO,Gregor Kasper & 致穎Chihying Musquiqui,2018,十六釐米黑白膠捲轉4K數位影像、三頻道錄像 (16mm B & W Film, 4K Digital Video, Three Channel Video), 25 min. 08 sec.
Café Togo follows the visions of the black activist Abdel Amine and centers on political symbols as well as diverse values and thinking of decolonization to initiate discussions about postcolonial issues.
《多哥咖啡》依循黑人運動家阿普德爾.阿敏.穆汗默德(Abdel Amine)的觀點,將政治性符碼以及去殖民之多元價值思想作為主軸,開啟後殖民議題的討論空間。
Musquiqui Chihying was born in Taipei, Taiwan; he currently lives and works in Taipei and Berlin, Germany, and is a member of the art collective, Fuxinghen Studio. He specializes in using multimedia creation to explore the human condition and environmental system in the age of global capitalization, and engages in the study and research about issues of subjectivity in contemporary social culture. Gregor Kasper was born in East Germany and grew up within the post-communist transformation processes after the Cold War. He is now living and working in Berlin, Germany. In his artistic practice he deals with the construction and mediation of history and remembrance in the society of the many.
致穎生於臺灣臺北。目前創作及生活於柏林與臺北,為復興漢工作室成員之一。擅長運用多媒材創作以探討全球資本化時代人類生存語境與環境體系之關聯,並多方關注當代社會文化之主體性研究與探查。格雷戈爾.卡斯帕(Gregor Kaspe)生於東德並成長於冷戰後的後共產轉型階段。目前居住於德國柏林。他關注於歷史的重新建構與調解以及社會共同記憶的探究。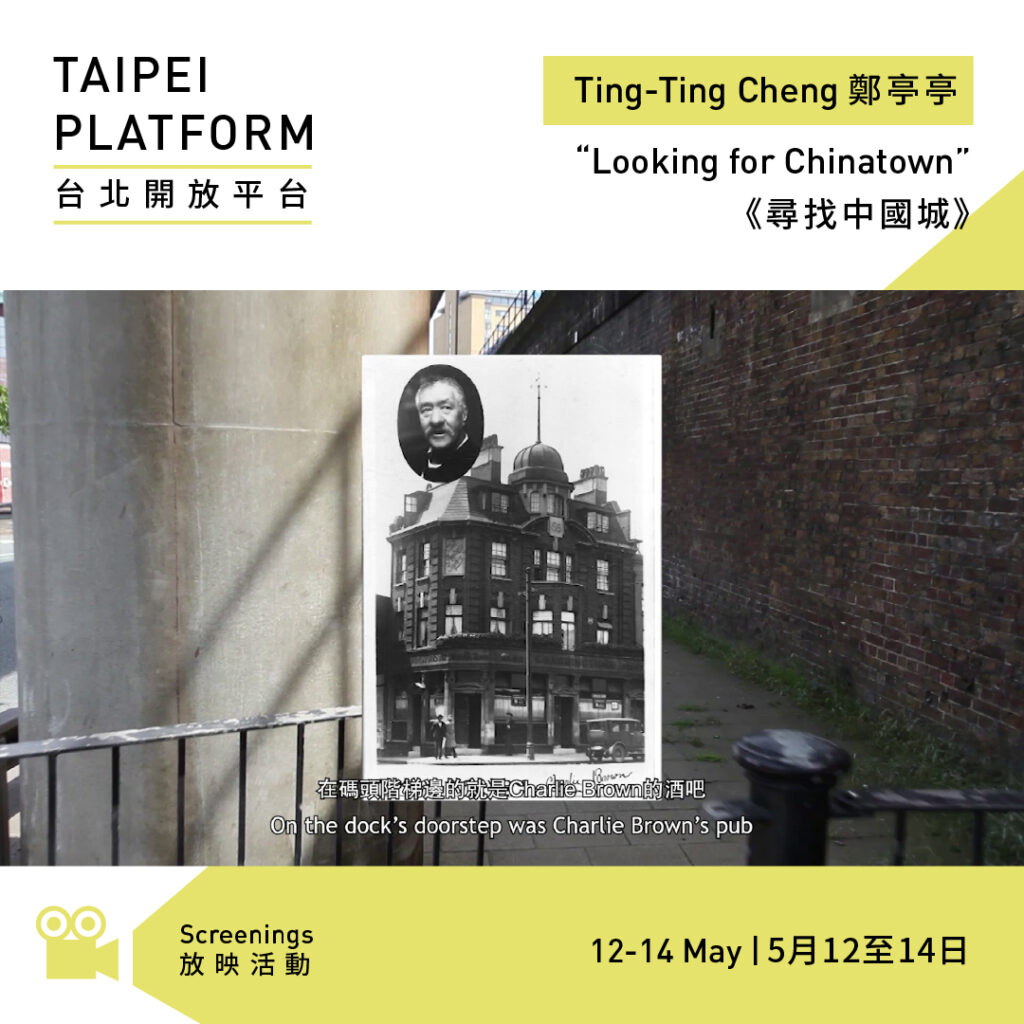 《尋找中國城》Looking for Chinatown,鄭亭亭 Ting-Ting Cheng,2015,單頻道錄像 Single Channeled Video,34'48"
By searching for the Chinese goddess of the sea and the ivory princess owned by the old Charlie, in "Looking for Chinatown", Cheng questioned the construction of the history of the original Chinatown, as John Seed stated, it "functioned as an imaginary place in which dominant cultural definitions of racial and ethnic difference could be produced, contained and policed – the idea of a Chinatown in Limehouse that never really existed." 
在《尋找中國城》中,藝術家鄭亭亭透過尋找倫敦消失的中國城內傳說中的收藏家Charlie Brown的藏品,試圖對歷史的構建提出質疑,如學者John Seed曾說的:「一個Limehouse中國城從未存在過的可能性。」
Ting-Ting Cheng is currently based in Taipei. She reinterprets archival and found materials to construct narratives in the current context. She had solo exhibitions at Taipei Fine Art Museum and other institutions and galleries in Asia and Europe. She had participated in Tokyo Bienniale, Contemporary Art Festival Sesc_Videobrasil (São Paulo), Bi-City Biennale of Urbanism\Architechture (China), etc.
鄭亭亭現居台北,在作品中,他藉由在當代脈絡下重新詮釋檔案影像來建立新的敘事,曾在台灣、香港、日本、英國、西班牙、匈牙利等地舉行個展,包括臺北市立美術館,曾參展深圳香港建築雙年展、東京雙年展、巴西聖保羅Videobrasil當代藝術雙年展、TIVA台灣國際錄像藝術展等。

Pop-up Library | 快閃圖書館
By 朋 丁 pon ding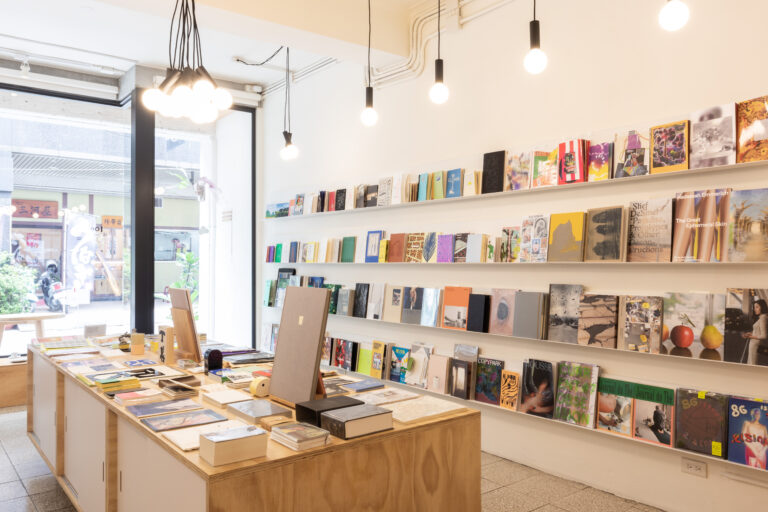 Explore a diverse range of independent publications that showcase the fascinating connection between art and reading. Discover selected books and unique paper-based works recommended or published by PAPER MATTER, Shiau-Peng Chen, Ting Ting Cheng, dmp editions, nos:books, AUSPIC PAPER, and TheCube Project Space. This pop-up library is organized by Pon Ding.
由朋丁召集的快閃圖書館,將紙本物視為一份歷久彌新的媒介,展示各式小眾獨立出版品項,探討藝術作品與閱讀之間的關聯性。特別邀約了來自 PAPER MATTER、藝術家陳曉朋、鄭亭亭、dmp editions、nos:books、恆成紙業、立方計劃空間,展示真心推薦或自行出版的書籍、紙本作品。
Workshops and Pop-up Events | 工作坊與活動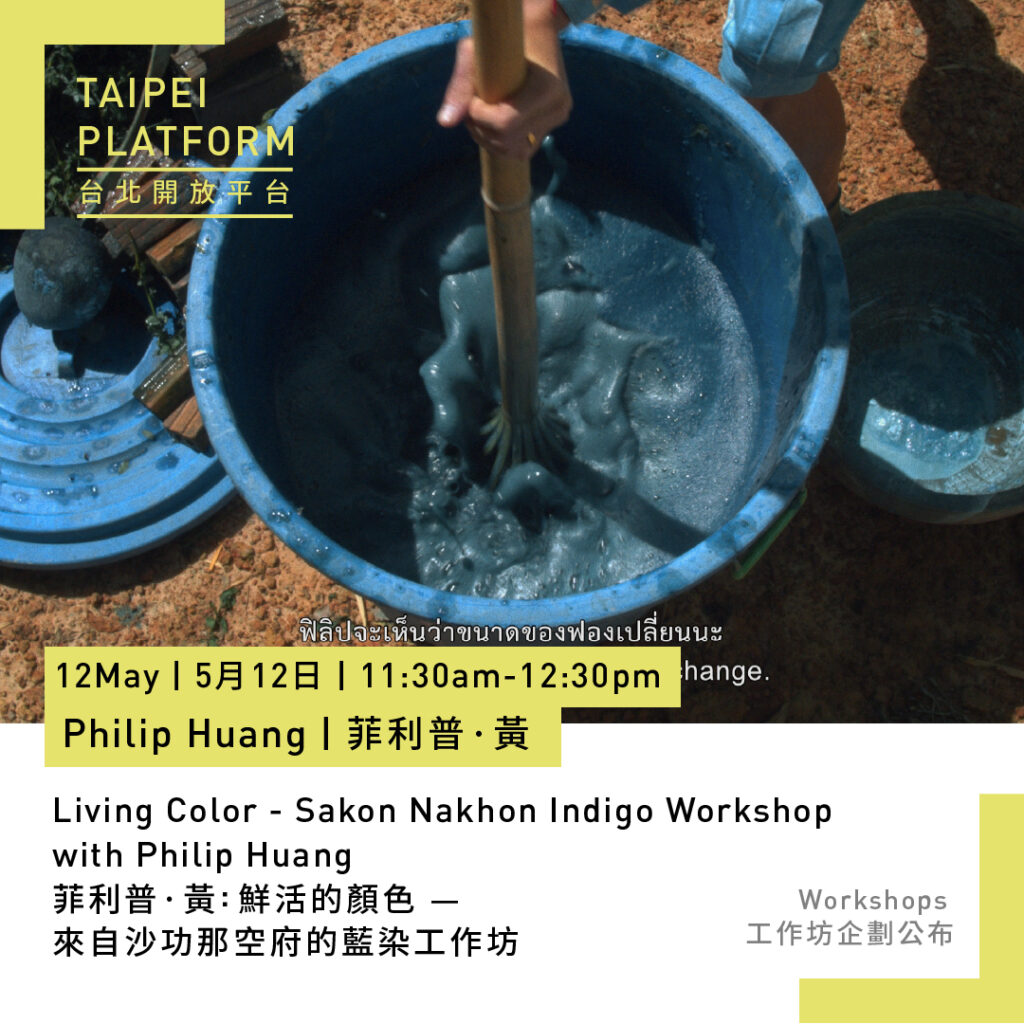 PHILIP HUANG
菲利普・黃
Living Color – Sakon Nakhon Indigo Workshop with PHILIP HUANG
菲利普・黃:鮮活的顏色 − 來自沙功那空府的藍染工作坊
Discover the ancient craft of indigo dyeing through PHILIP HUANG's journey to Sakon Nakhon in a visual essay, Finding Oasis, afterwards learn how to make a fermented indigo vat with only natural ingredients. Finally, Philip will guide you through a painting session with natural indigo ink on Taiwanese artisanal paper handcrafted by Fenko. 
在菲利普 ‧ 黃的帶領之下,踏上旅程,從找尋綠洲(Finding Oasis)這部視覺論文作品開始,探索來自沙功那空府的古老藍染工藝。參與者將學習如何用天然材料發酵藍染顏料。最後,菲利普將帶領參與者使用天然藍染顏料繪畫,而繪紙則嚴選鳳嬌催化室的手工紙。
About PHILIP HUANG
Founded in Brooklyn by Philip Huang and Chomwan Weeraworawit in 2016, and based between Bangkok and New York, PHILIP HUANG creates clothing and accessories in collaboration with artisans in the Northeast of Thailand. Using plant-based regenerative natural dyes, organic fibers, and handwoven textiles, artisanal knowledge is merged with contemporary design to create clothing and accessories for today and the future. 
關於菲利普‧黃
菲利普‧黃和泰國北邊的匠人合作,使用植物再生的天然染料、有機纖維以及手織布料,融合匠人工藝的知識結晶與當代設計的概念,創作今日和未來的服裝與飾品。該品牌自2016年由菲利普 ‧ 黃和Chomwan Weeraworawit共同創立,活動據點在曼谷和紐約。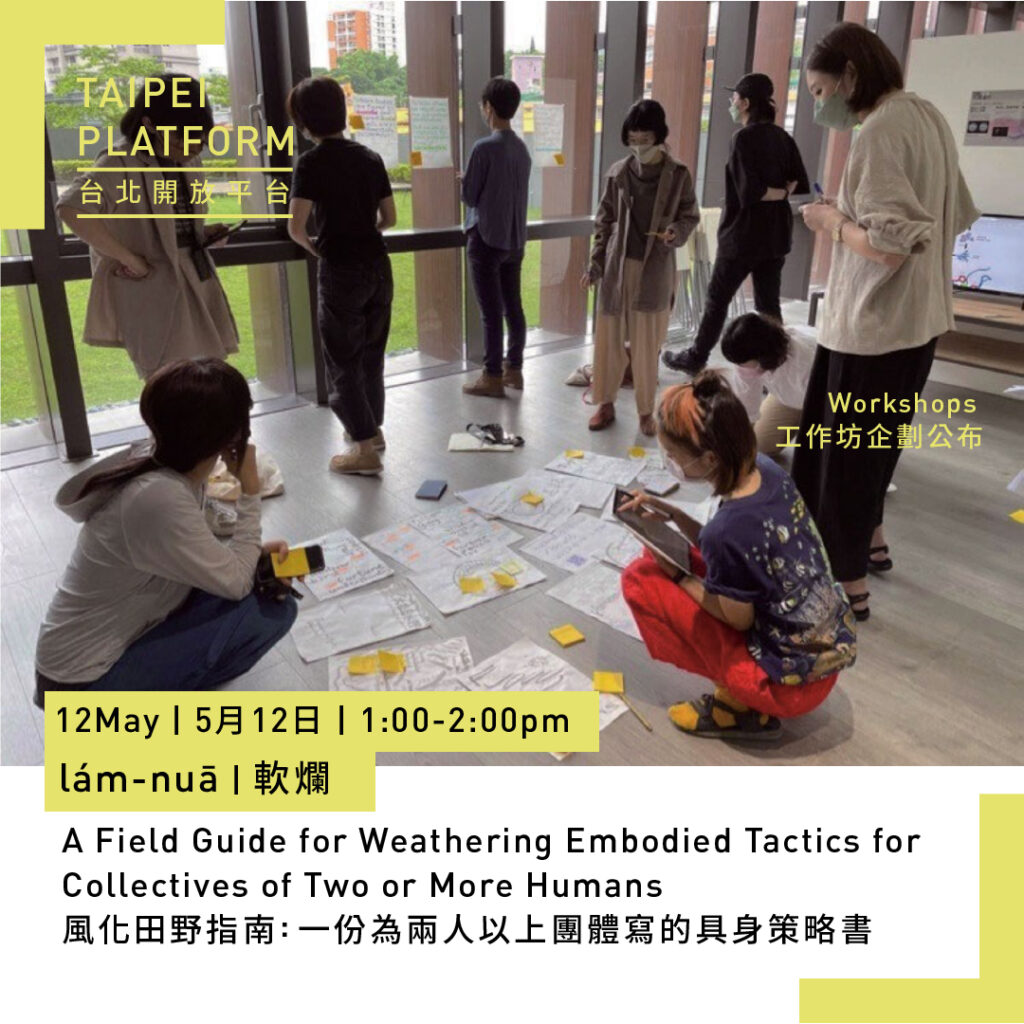 lám-nuā
軟爛
A Field Guide for Weathering: Embodied Tactics for Collectives of Two or More Humans
風化田野指南:一份為兩人以上團體寫的具身策略書
The Weathering Collective (Jennifer Mae Hamilton and Astrida Neimanis) has published  'A Field Guide for Weathering: Embodied Tactics for Collectives of Two or More Humans,' a fun approach towards observing and caring for our bodies' different needs. Through play, revising and researching new possibilities together, they set to awaken 'explosive new constellations of want'. Attuning our five senses to more lively, diverse and personal approaches towards climate change, and supporting the co-existence of Others, this workshop acts as a microcosmic weather observation station at Taipei Dangdai.
研發團隊「天氣小組」(Jennifer Mae Hamilton 與 Astrida Neimanis)提出的〈風化田野指南:一份為兩人以上團體寫的具身策略書〉 希望以有趣的方式應用,觀照不同的身體需求,一起遊戲、修改、研究新的可能,喚醒「如星宿排列般爆炸性的新需要」五感工程及興趣。以更活潑、多元、切身的方式,因應氣候變遷、支持他者共同存在。本場工作坊將在台北當代的展場進行一個微觀的天氣觀察。
About Lám-Nuā
Hosted by curator Shih-Yu Hsu and translator Renyu Wu. Facilitating irregular gatherings walking around or lying down. Lám-Nuā is techniques of hibernation. Lám-Nuā is a mixture of earth and water. Lám-Nuā is togetherness.
關於軟爛
🐌「軟爛」(Lám-Nuā)是由策展人徐詩雨及譯者吳礽喻共同主持的現場 + 線上讀書會,偶爾會到野外走踏或是在室內躺平。軟爛是懶惰的技術,「水體」的延伸與落地、水與土的混和、資訊傳遞的緩流、關係的絮凝與同在。
https://linktr.ee/lam_nua
https://instagram.com/lam_nua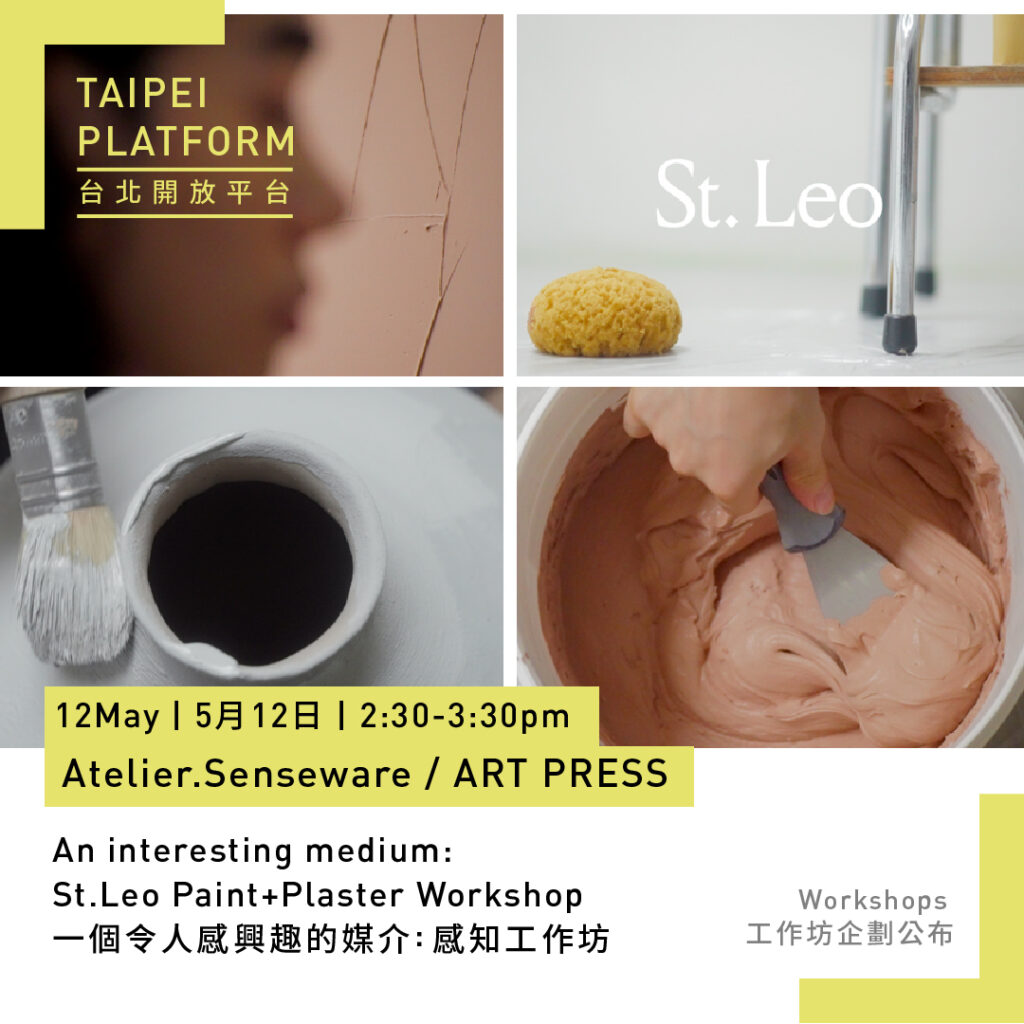 Atelier.Senseware / ART PRESS
An Interesting Medium: St. Leo Paint + Plaster Workshop
一個令人感興趣的媒介:感知工作坊
The ART PRESS editorial team and Atelier.Senseware, a brand dedicated to exploring the beauty and deconstruction of architecture, together present a new project called 'An Interesting Medium'. The workshop invites participants to think about the role that art collection and the aesthetics of architectural space may play in daily life through visual and tactile perception, aiming to explore the philosophies and spiritual essence behind art collection with the audience.   
Please bring recycled items that you would like to transform through repainting, for example, a flower vase or other objects with a modifiable surface. For those participants without such objects, wooden items will be provided to paint.
ART PRESS 編輯部團隊與來自丹麥-哥本哈根當代塗料品牌 St. Leo Interiors Paint + Plaster 共同呈獻嶄新企劃《一個令人感興趣的媒介》:視覺與觸覺感知工作坊。丹麥 St. Leo 塗料團隊將帶領探討視覺感官,包括色彩如何影響觀感,以及物件與空間環境的互動,藉以思考藝術收藏與建築空間之美在日常生活中的可能。名額有限,歡迎建築與空間設計相關領域人士報名參與。
參加的賓客們歡迎自備想要改造的物件,例如花器或是表面可供改變的既有物件,如無自備,將提供木製品做塗料體驗。
About Atelier.Senseware and St. Leo Interiors
Atelier.Senseware is the official distributor of St. Leo. Interiors for Taiwan. St Leo. was founded by the owners of Danish furniture brands MENU, &Tradition, Kinfolk Magazine and Norm Architects. Their first project was the complete architectural design of The Audo, MENU's new HQ in Copenhagen.
關於 Atelier.Senseware 與St. Leo. Interiors
Atelier.Senseware 專營丹麥藝術礦物塗料 St. Leo Interiors。St. Leo Interiors 由丹麥當代家具品牌 MENU、&Tradition、Kinfolk 雜誌和Norm Architects 的業主們創辦的。他們的第一個建案是為 MENU 在哥本哈根的新總部 The Audo 的整個建築群設計。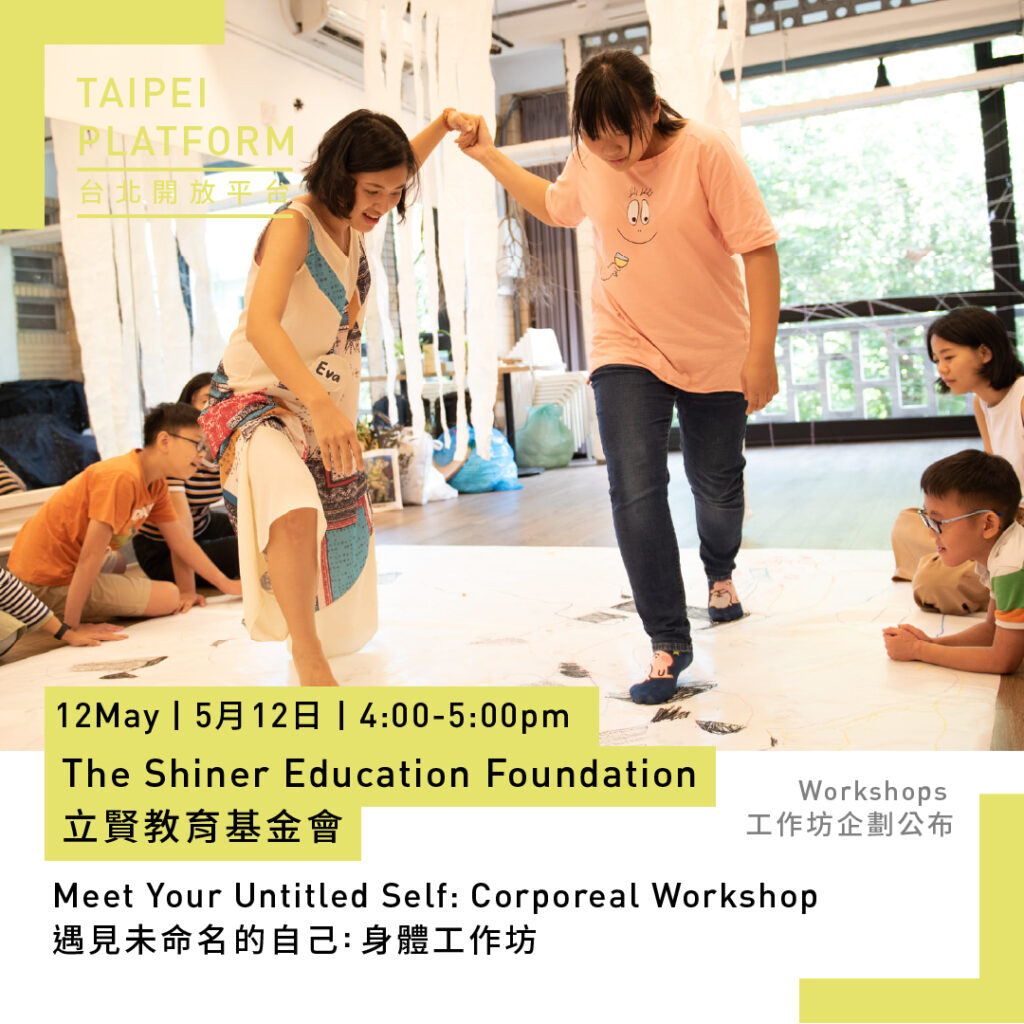 The Shiner Education Foundation
立賢教育基金會
Meet Your Untitled Self: Corporeal Workshop
遇見未命名的自己:身體工作坊
Every child is an artist. The problem is how to remain an artist once they grow up. – Pablo Picasso.
Heartbeat – Breath – Touch – Connection – Resonance. As the medium connects with the body to become art in all forms, in this experiential workshop, we will follow our intuition to carry out small experiments under the concept of body sculpture.  Here, our grown-up selves may encounter our indefinable selves once again. "Let's open our minds and boundaries for a moment and awaken the artist inside of us!"
「每個孩子都是藝術家。問題在於我們長大後,如何繼續當個藝術家」— 畢卡索
心跳-呼吸-觸碰-連結-共振,當媒材與身體連結,成為這個世上所有形式的藝術品,在這個體驗式工作坊中,我們順著直覺嘗試一點點身體雕塑的概念,讓長大後的我們,來到這裡與那個無法被定義的自己再次相遇……。「讓我們暫時放掉頭腦與框架,喚醒在身體裡的藝術家!」
About the Shiner Education Foundation
The Shiner Education Foundation has been long committed to providing educational services that 'connect the essences in life' through art and nature, annually enriching more than a thousand children's lives in Taiwan's remote areas and social welfare organizations. Through a diversity of inspiring programs, each child is guided in self-exploration and their connection with the world to become their own unique selves.
關於財團法人立賢教育基金會
長期致力於推展「連結生命本質」的教育服務,以「藝術」與「自然」每年陪伴超過近千位台灣偏遠、非山非市地區、及社福機構的大小孩子,透過多元富啓發性的課程,引導每個人探尋自我、連結世界,成為那個獨一無二的自己。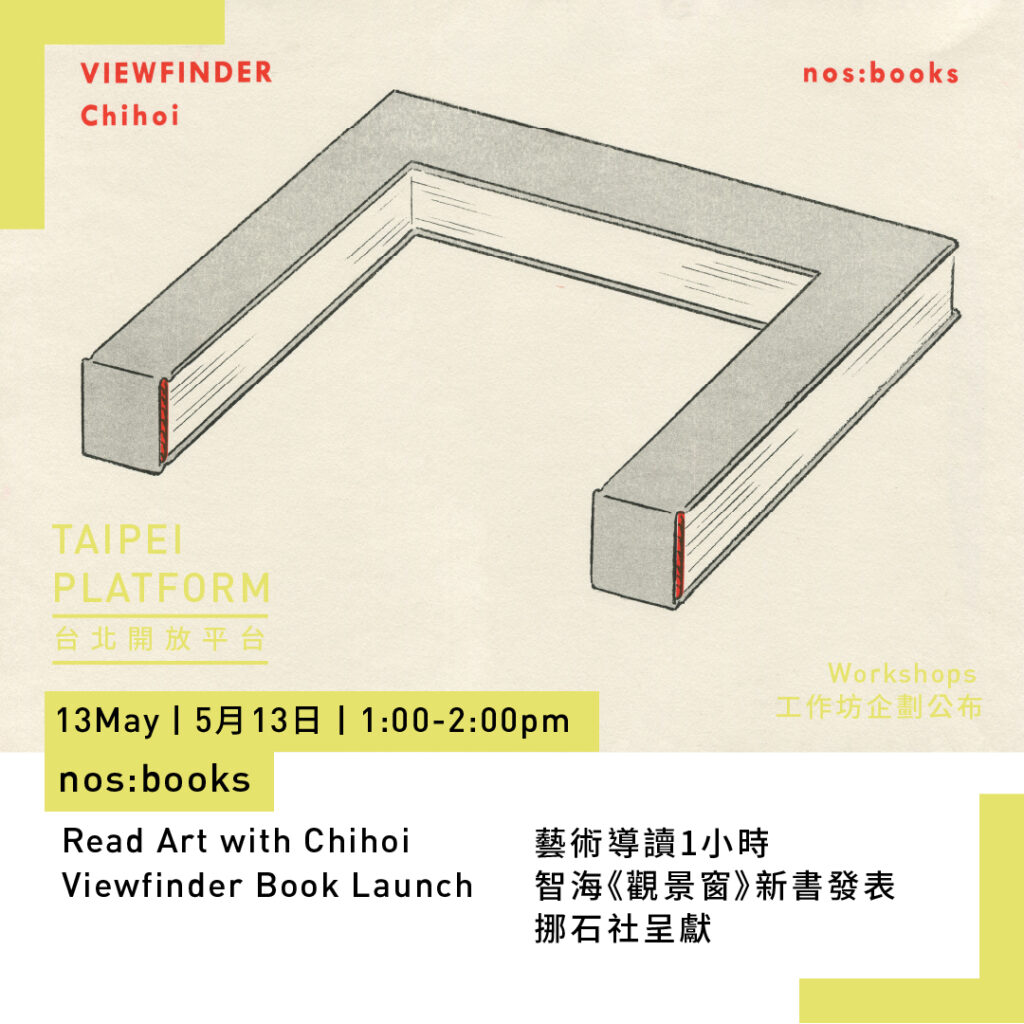 nos:books
Read Art with Chihoi
Viewfinder Book Launch
藝術導讀1小時
智海《觀景窗》新書發表
挪石社呈獻
Do you get fatigued from absorbing so much art at the Fair that you miss out on some good artworks?
The launch of Chihoi's new book Viewfinder will take place at Taipei Dangdai Art & Ideas, and performs a tour guide service for the audience to experience reading and discerning art with new eyes, distinguishing their own point of view out of all the possible perspectives.
在藝博裡審美疲勞,無法對焦,害你錯過了好作品嗎?
智海新書《觀景窗》,將於台北當代藝術博覽會中發表,現場提供導覽器租借服務,帶你遊走藝博1小時。 以全新的視覺體驗,看藝術、讀藝術,在形形色色的觀點裡,找回屬於你的point。
About Chihoi and nos:books:
Chihoi (b.1977, old Hong Kong) began publishing comics in the late 1990s in local press as well as international anthologies. His works deal with topics ranging from the complexity of human relations to the demise of culture. His comics have been translated into English, French, Italian and Finnish. In recent years, his practice has taken a turn to oil painting. He is also part of the editorial team of nos:books in Taipei.
nos:books is an independent publisher founded by artist Son Ni in 2008 in Taipei. We strive to realize artists' ideas and concepts in unique book formats. Our books are limited-edition works by artists from Taiwan and abroad. We participate in international art book fairs and since 2021, we run a book space under the name nos:bookspace.
作者及出版社簡介:智海(1977年舊香港出生),畢業於香港中文大學理學院,自習繪畫,大學時代起發表漫畫,作品題材廣泛,描繪現代人生存際遇與文化的殞落,歷年著作甚豐,譯有英、法、義文等外語。近年轉向油畫創作及展覽,及參與台北nos:books出版社編務。nos:books(挪石社)是一家獨立印刷出版社,2008年由藝術家Son Ni於台北成立。nos:books主要出版藝術家的意念、行為,以獨特的書本形式來呈現。積極參與各國藝術書展,於2021年起開始在台北營運實體空間 nos:bookspace。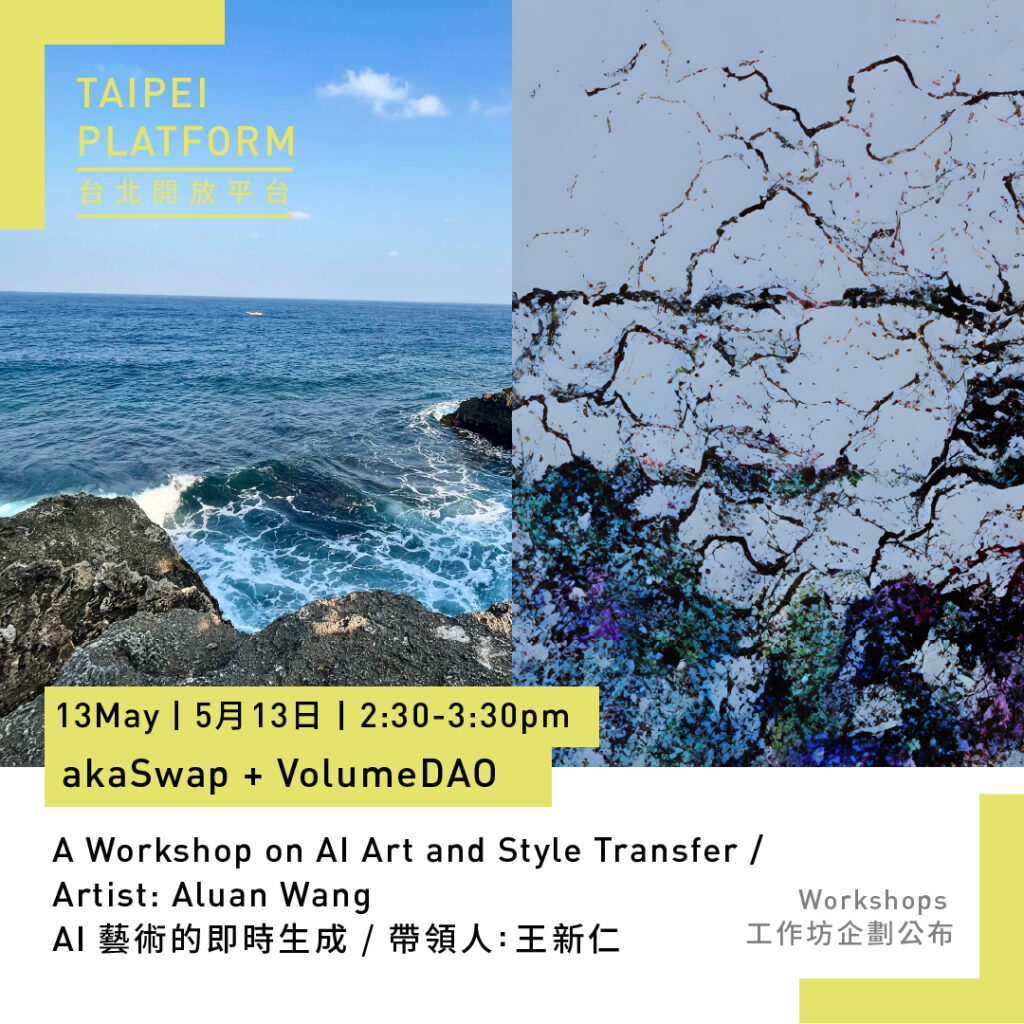 akaSwap + VolumeDAO
A Workshop on AI Art and Style Transfer / Artist: Aluan Wang
AI 藝術的即時生成 / 帶領人:王新仁
This activity will be hosted by the Generative AI system developed by artist Aluan Wang with akaSwap, guiding the audience to understand the creations of AI as well as being able to acquire instantly generated AI artworks.
Aluan Wang's recent AI-generated artwork Chaos & AI Research is currently showing in the exhibition "Generative Taipei On-Site: The Archipelago Hashed 2023" at Honggah Museum from 22 April to 21 May, organized by Volume DAO.
本活動由藝術家王新仁以 akaSwap 開發的人工智能生成系統,帶領大家一方面了解 AI 創作,另一方面獲得 AI 創作即時生成的作品。
報名本工作坊之成員需攜帶手機或筆電,手機或筆電皆需有拍照功能。
王新仁近期的人工智能生成作品《Chaos & AI Research》,也將於 4/22-5/21 於鳳甲美術館「台北生成現場:列島雜湊 2023」展出,該展由 Volume DAO 舉辦。
About Volume DAO
Volume DAO is a crypto art collective of artists, collectors, curators and critics. In addition to contributing to the shaping of art history through collecting, we curate exhibitions as well as focusing on the interests of the public and other social issues, attempting to create a benevolent public sphere for the metaverse. We anticipate collecting art with our audience and together speaking out to the world.
關於Volume DAO
加密藝術團體,由藝術家、藏家、策展人和評論人構成。除了以收藏參與藝術史的形塑,我們也策畫展覽,並關注公益和各項社會議題,嘗試為元宇宙打造良善的公領域。期待跟大家一同典藏作品,向世界發聲。
About akaSwap
akaSwap is Asia's largest open marketplace for Tezos NFT, showcasing a wide range of artworks and projects created by Asian artists. In addition to hosting raffles, artist clubs, copyright sharing and swaps, it also offers a wide range of unique and original features as well as customized smart contract solutions.
關於akaSwap
akaSwap是亞洲最大的Tezos NFT開放市場,展示了亞洲藝術家創作的多種藝術品和專案。除了常見功能,如抽獎、藝術家俱樂部、版權分享和交換分享,還提供多種獨特原創功能和定制化智能合約解決方案。
About Aluan Wang
A new media artist and the first Taiwanese artist to be deployed on the NFT art empire Art Blocks. In 2012 and 2015, he won first prize at the Taipei Digital Art Festival. He is currently a full-time artist and frequently leads practical workshops in major art galleries and museums.
關於王新仁
新媒體藝術家,同時是台灣第一位登上 NFT 藝術殿堂 Art Blocks 的藝術家。2012年和2015年皆獲得臺北數位藝術節首獎,目前是專職的藝術工作者,並時常於各大美術館、博物館帶領實作工作坊。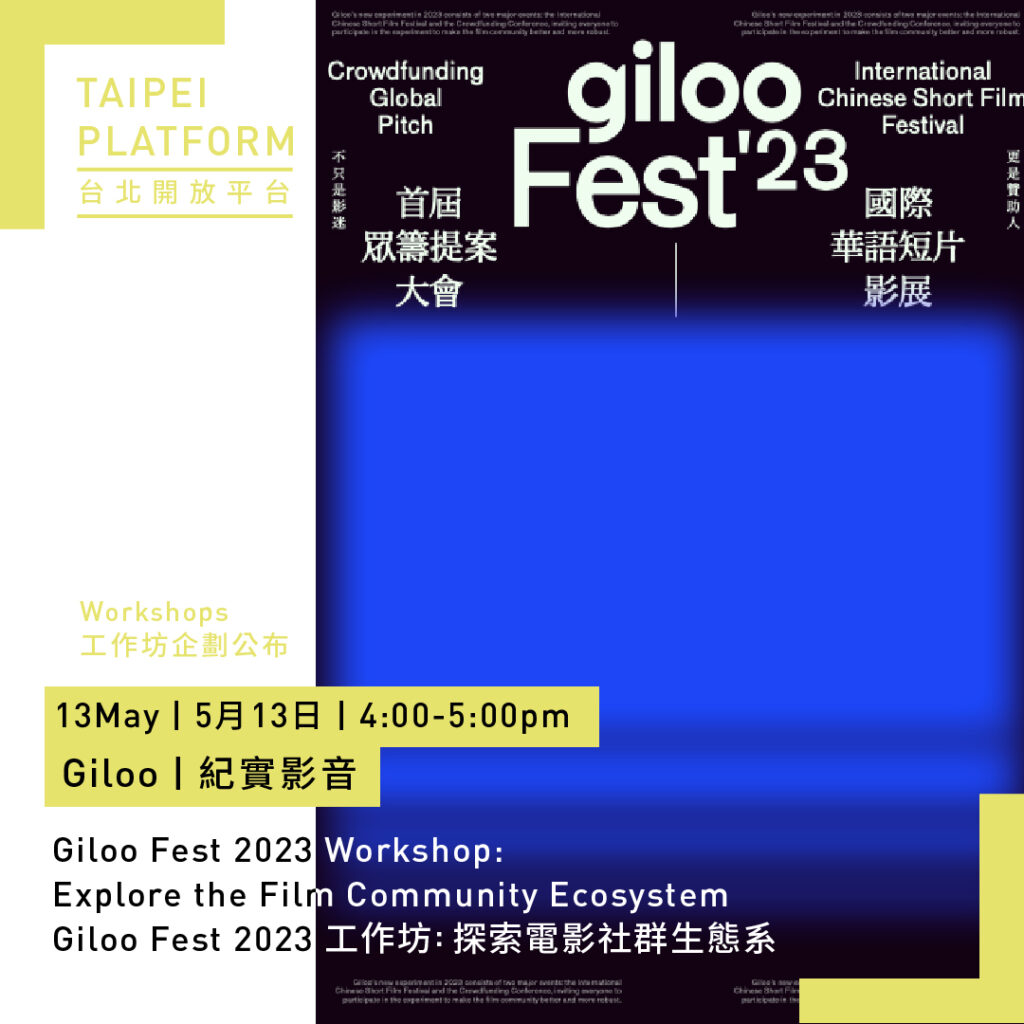 Giloo 紀實影音
Giloo Fest 2023 Workshop: Explore the Film Community Ecosystem
Giloo Fest 2023 工作坊:探索電影社群生態系
Welcome to the Giloo Fest 2023 workshop!
Giloo believes in the power of documentary and non-fiction storytelling, but such content lacks support in the current film ecosystem. To turn this situation around, Giloo leads this workshop to discuss how to gain ground for such filmic work, from the aspects of production, the audience, circulation and promotion. Giloo will also introduce its new experiment for 2023, Giloo Fest, exploring the infinite possibilities of the film community ecosystem.
我們很高興邀請到短片和實驗影像創作者吳梓安參加 Giloo Fest 2023 工作坊,與我們分享他的個人經歷、創意和製作技巧。作為一位傑出的電影製片人和藝術家,吳梓安運用短片突破傳統敘事的限制,探索視覺表現的新形式。
他挑戰了傳統電影製作的觀念,擁抱電影藝術行業的無限可能。讓我們一起探討短片創作如何能夠克服發行挑戰,建立更具支持性和包容性的獨立創作者生態系統。期待一起聊聊短片與錄像藝術行業的多樣性和創造力,開啟不斷發展媒介的潛力。
About Giloo
At Giloo, we take pride in being the leading online film festival and issue-oriented streaming platform in the industry. Our platform is designed to showcase a curated selection of global award-winning films, documentaries, classic films and art films that are sure to captivate and inspire our audience.
關於 Giloo紀實影音
Giloo的命名,來自於「紀錄」的發音,是台灣唯一以影展及議題為導向的影音平台,搜羅台灣與全世界最重要的電影,打造專屬於影迷的文化社群。
https://giloo.ist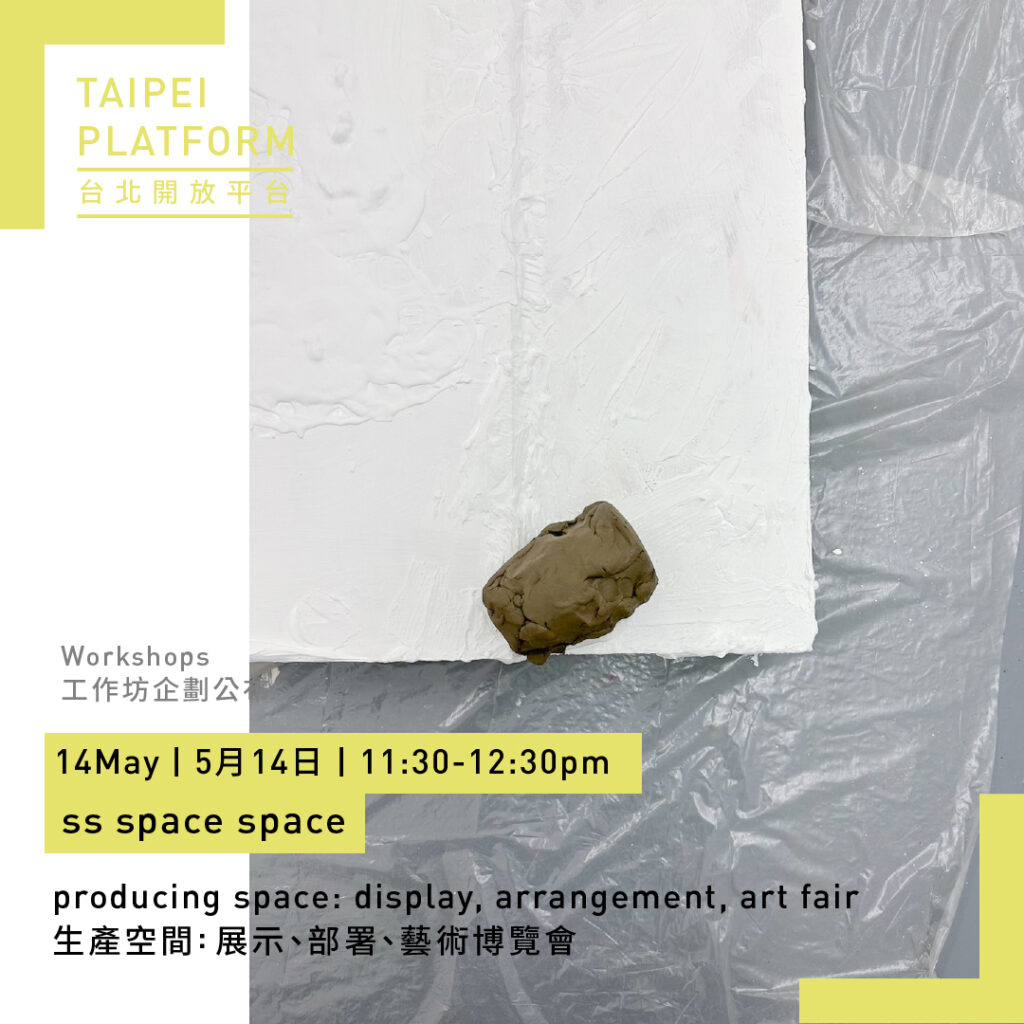 ss space space
producing space: display, arrangement, art fair
生產空間:展示、部署、藝術博覽會
Addressing the sculptures presented at the Fair, this workshop will lead participants through a series of discussions and creative activities. Using a variety of narrative methods including social media circulation, language, painting and sculpture, we will attempt to construct (or deconstruct) the meaning of the artworks. In the process of circulating, communicating and creating our interpretations, the limitations of narration will be explored. This workshop is limited to eight participants.
本工作坊將透過藝術博覽會場地的雕塑作品,引領參與者進行一連串的討論與創作活動。我們將運用社群傳播、語言、繪畫和雕塑等多種敘述方法,試圖建構(或解構)作品意涵。同時,在傳播、溝通和創造的過程中,我們也將探索敘述方法的限制以及其他可能的運作方式。本工作坊限量八個席位。
工作坊將會使用參與者之個人手機進行部分活動;現場另備有陶土、紙筆進行簡易捏塑與繪畫創作。除了工作坊參與者之外,也歡迎現場的大家一起參與討論。
About ss space space
ss space space is an artist-led experimental space with specific research on notions of space. Collectively and critically, we explore diverse aspects of art by proposing questions and experiments and inviting multiple triggers for reflection.
Since 2020, the organisers of ss space space have formed their practice through a series of collective learning and socially engaged curations, including online projects and physical exhibitions. They have invited creatives from various backgrounds to participate and communicate, exploring concepts of space in a broad and insightful context. Challenging the understanding of existing techniques, technology, culture and society in a fluid and dynamic way, ss space space endeavors to build bridges with institutions, art creatives and the public to create critical discourses and encourage reflection.
Sean Tseng and Sara Wu are the co-founders of ss space space.
www.ssspacespace.work
關於 ss space space
ss space space是一個由藝術家吳依宣與曾彥翔共同成立的實驗空間,也是一個以「空間」為題的研究團隊。
於2020年起,ss space space 以社會公共參與實踐為目標,透過線上企劃、展覽與工作坊等活動,嘗試邀請不同專業領域工作者共同學習與交流,期許能作為現有機構、藝術工作者及大眾之間的橋樑,建立多元而流動的藝術場域,並在不斷地提問與實驗之中反思與回應當前社會面臨之議題。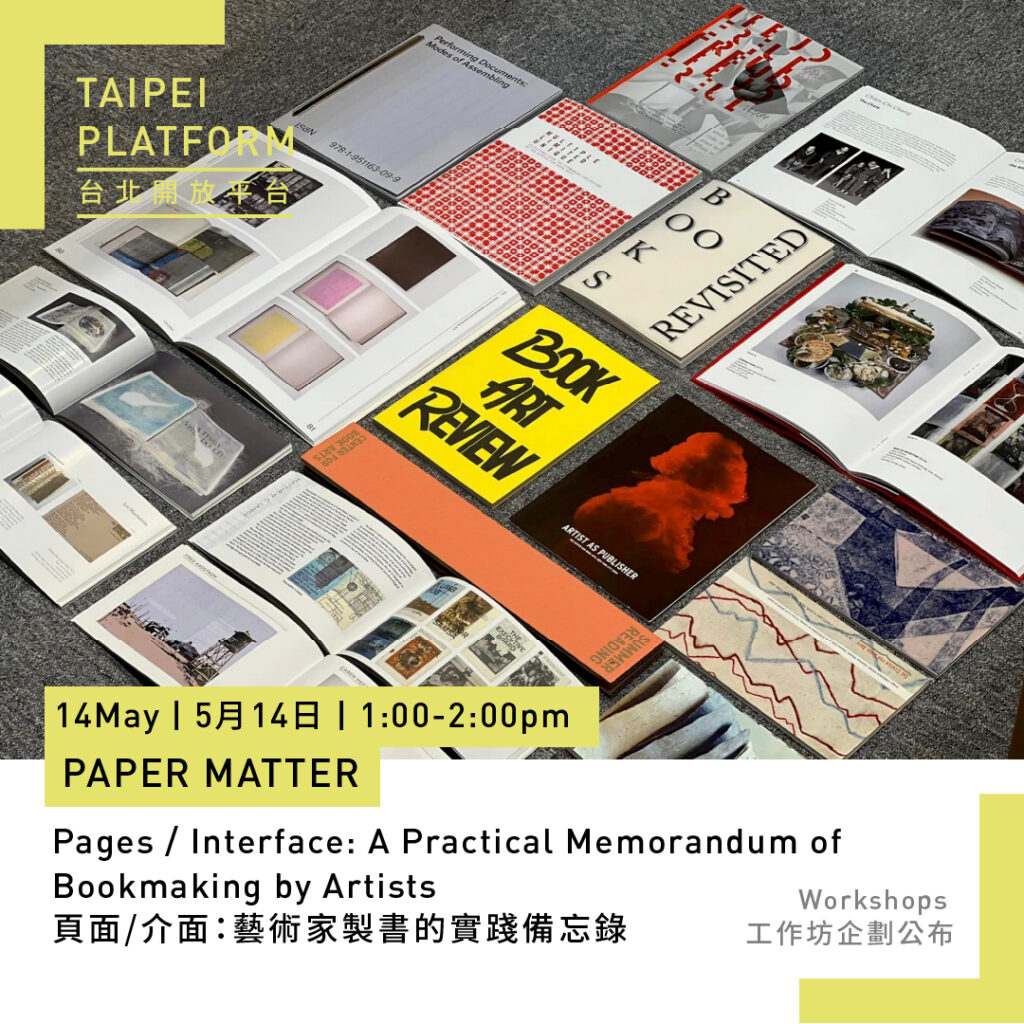 PAPER MATTER
Pages / Interface: A Practical Memorandum of Bookmaking by Artists
頁面/介面:藝術家製書的實踐備忘錄
This workshop regards the methodology of the artist's book. Through collective readings of a selection of books, we will analyze how contemporary artists' books complement the creative process as well as being nodes to expand artistic concepts. Taking two aspects, the page (the book's materiality) and the interface (the sociology of texts), we consider how 'the Editorial' should be a creative practice that links the artist's concepts to the 'text-object-reader' relationship, throughout the publication stages of production, circulation and reception.
這場工作坊以藝術家製書的方法論為主軸,邀請參加者一起共讀主題選書,過程中將剖析當代藝術家書籍如何被視為創作脈絡的互補,或是藝術家書籍作為節點,用來拓展概念。
討論將有兩個面向:頁面(書籍物質性)與介面(文本社會學),思考藝術概念經由生產、流通與接納的一系列出版過程,該如何透過「編輯性」(The Editorial)的創造性實踐,藉以連結「文本—物件—讀者」的互動關係。
About PAPER MATTER
PAPER MATTER is an atelier dedicated to the aesthetics, practice and knowledge of artists' books and contemporary photobooks as well as the development of their ecosystems. Through the Artists' Books Archive, they aim to rediscover bookmaking and publishing through the dynamic role it plays in artistic practice today, exploring the medium's future possibilities and discursive frameworks in a global context.
關於 PAPER MATTER
PAPER MATTER 為致力於推展藝術家書籍(Artists' Books)和當代攝影書的美學、實踐、知識建構及其生態建制的藝術單位,通過進駐在台北國際藝術村的藝術家書籍文獻庫(Artists' Books Archive)為基地;文獻庫的主要功能圍繞在書目典藏、研究、教育、展示與顧問等行動鏈結社群:旨在重新發掘製書與出版在當下作為藝術實踐的能動性,探索此媒材在東亞區域的未來可能與全球脈絡下的論述形構。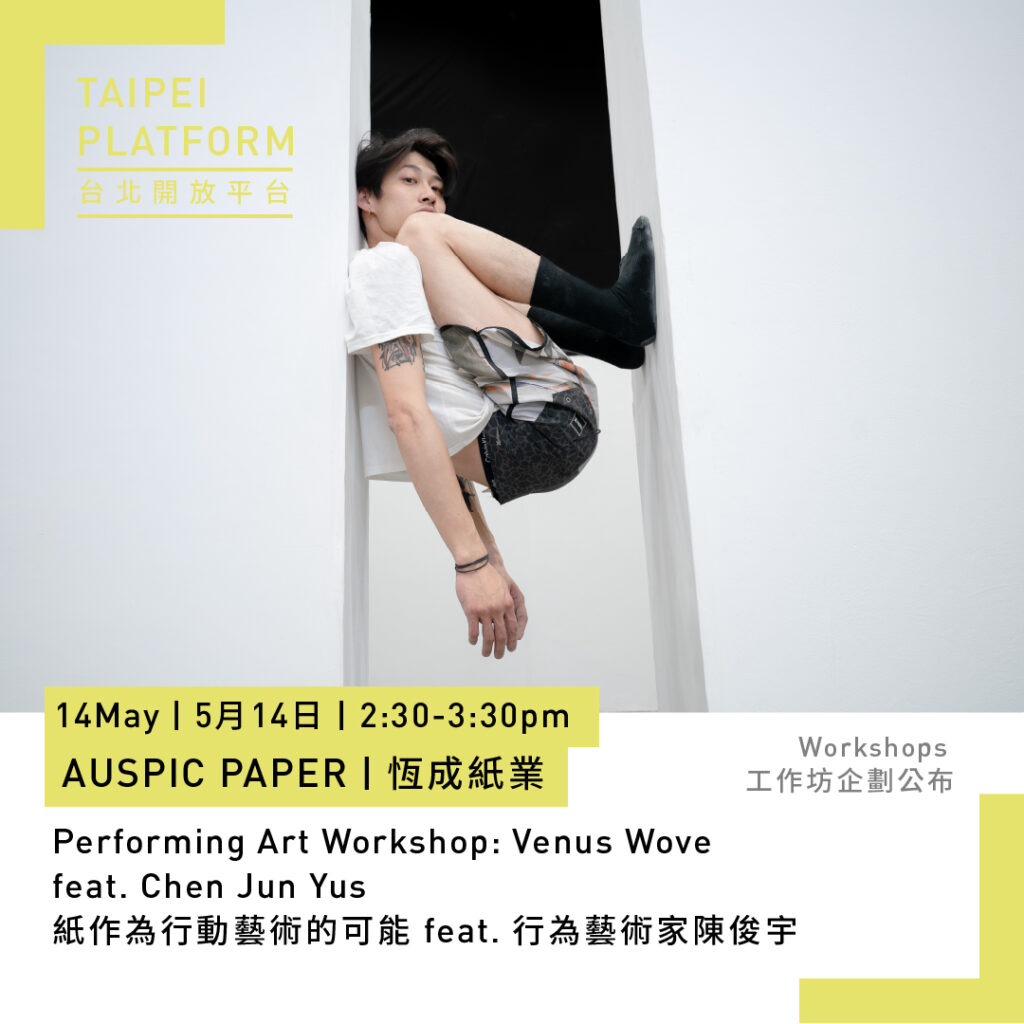 AUSPIC PAPER
恆成紙業
Performing Art Workshop: Venus Wove feat. Chen Jun Yu
紙作為行動藝術的可能 feat. 行為藝術家陳俊宇
Artist Chen Jun Yu deftly employs the body and its actions as a medium to transmit ideas. Using 'Venus Wove' ivory paper, a type of white paper popular for cultural publications, he creates the performance artwork "_USED TO", in which he draws and cuts up his own changing body posture, framing slices of time. This hands-on workshop assists the audience in creating a performance at the Fair, where they will leave behind slices of themselves and interact with a rarely accessible raw paper material, bringing them up close to 'Venus Wove' and its charm.
藝術家陳俊宇擅長以身體作為傳輸介質,並用行動說明想法,以恆成維納斯系列象牙紙為媒材,創作出行為藝術作品《_USED TO》,透過割畫自己時刻變換的身體形態,創造出不同時間切片的節點。本次工作將帶領觀眾現地實作,留下自身形貌切片之餘,亦能與平時少有機會接觸到的文化印刷用紙親密互動,實際體驗感受維納斯象牙的魅力。
① 參與民眾請盡量穿著貼身、輕便好行動之衣物,如瑜珈韻律服等。
② 工作坊內容將以美工刀進行割畫,請務必小心操作,避免劃傷。
AUSPIC PAPER
Founded in 1977, we have assumed the role of 'the authority in paper' for Taiwan's graphic, publishing and printing industries. From all parts of the world to Taiwan's domestic production, and from the refined and unique to the plain and simple, we reconsider how this medium can serve as a window to the imagination in countless cultural, artistic and design productions, not only to convey knowledge and aesthetics, but also to re-present the implicit value and historical significance of paper.
關於恆成紙業
創立於 1977 年,為台灣平面、出版與印刷負任「選紙人」角色。從世界各地到台灣國產、從細膩獨特到平實質樸,我們重新思索這張乘載無數文化、藝術與設計創作的載具,如何成為開啟世界想像的切入口,不僅是知識與美學的傳送門,也重新呈現紙張背後所隱含的價值與歷史意義。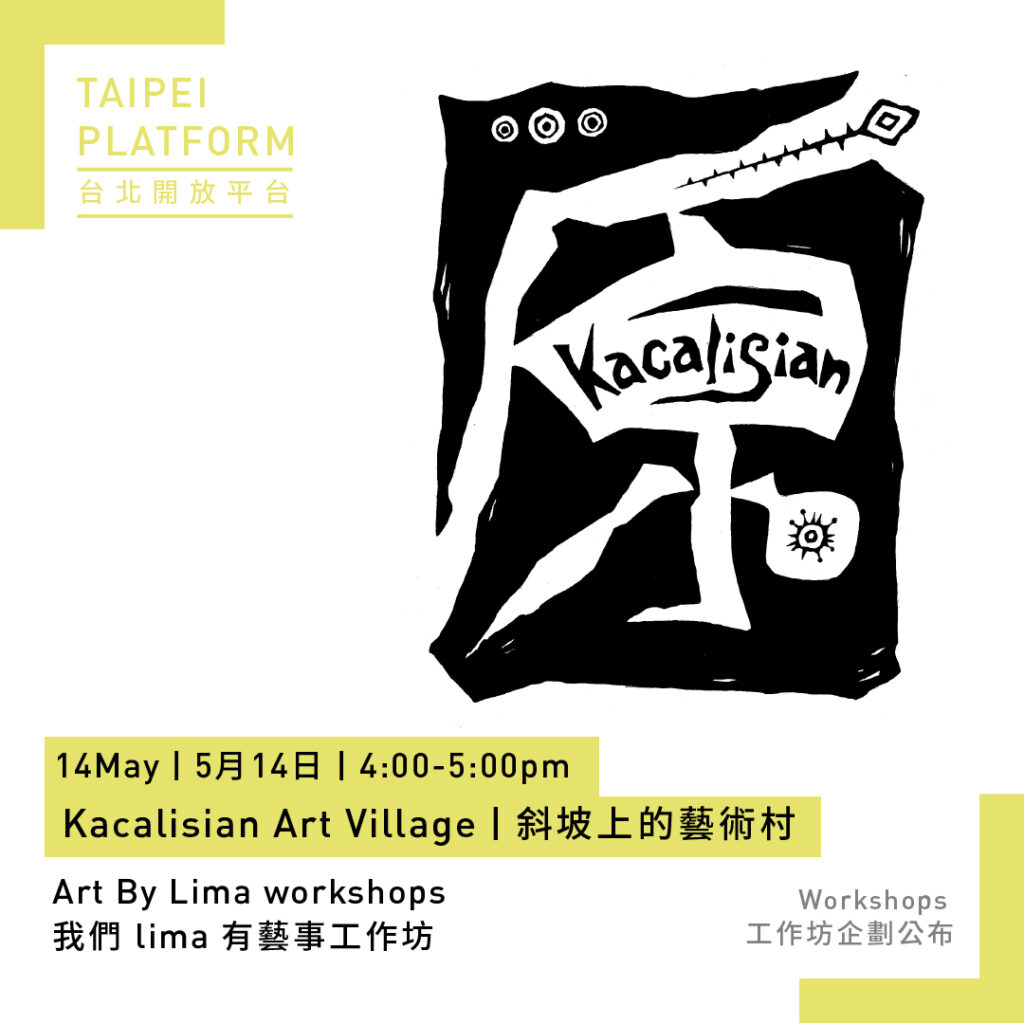 Kacalisian Art Village
斜坡上的藝術村
Art By Lima workshop
我們 lima 有藝事工作坊
In the Austronesian language family, lima means both the number 'five' and 'hand', and in the Paiwan language, pulima literally translates to 'a person with many hands': a person who is skillful at using their hands to accomplish many things, such as a 'handyman'. The ancestors of the islands of Taiwan once collected the bark of the paper mulberry tree or the banyan tree from the forest and, through the age-old method of hammering to soften the bark, stretched it into non-woven fabric to be sewn into clothes, hats, skirts and trousers for everyday use, even replacing the use of animal skins in hunting attire. This workshop invites the public to learn about barkcloth, beating out their own piece of barkcloth with their lima.
The lima of the Austronesian people narrates their stories and journeys, and the handmade visual art of lima is a bridge connecting this heritage with others.
「lima」在南島語系中為「數字 5」以及「手」的意思,在排灣族語中「pulima」直譯是很多手的人,意思是手很巧,可以透過雙手做很多事的人。
台灣島嶼的祖先,曾經從森林中採集構樹或雀榕等植物的樹皮,使用最原始的捶打方式,讓樹皮柔軟,讓樹皮延展成不織布,然後縫製成日常生活所穿的衣、帽、裙、褲,甚至也可取代獸皮製作打獵時穿的獵裝。此次工作坊將邀請民眾從認識樹皮布到親自用自己的「lima」(雙手)敲打出屬於自己的樹皮布。
從「lima」手作的視覺藝術作為彼此連結的關係線,南島民族的 lima 敘述著那曾經聽過的故事走過的路。
About Kacalisian Art Village
Kacalisian Art Village is committed to highlighting Indigenous art and literature, art curating, lensbased media and publication editing, local creativity and other endeavours. We work towards the preservation and promotion of Indigenous art, literature and traditional culture, and combine relevant artistic and cultural elements with present-day materials to develop unique and contemporary artistic practices, anticipating Indigenous art's integration in daily life and on the international stage.
@kacalisian_art
關於斜坡上的藝術村
致力推展原住民藝術及文學創作、藝術策展、動靜態攝影與圖書編輯、在地創生等工作。期待原住民藝術、文學、傳統文化予以保存與推展,並將相關藝術文化元素結合現代創作媒材,發展出藝術創作的獨特性與當代性,並期待原住民藝術的生活化與國際化。
@kacalisian_art