Beetle Sphere Orange (Edition 2/5) | Breadman's Automation
Beetle Sphere Orange (Edition 2/5)
Ichwan Noor (b. 1963, Jakarta)
Aluminium Painted & Original Parts VW Beetle 1953
180 x 180 x 205 cm
2018
Presented by ROH Projects
Ichwan Noor is a Yogyakarta-based artist renowned for his large-scale sculptures of hybrid human, animal and technological forms. A graduate of the School of Visual Art at the Indonesia Institute of the Arts (ISI), Yogyakarta, and a Professor of Fine Arts at the University of Yogyakarta, Noor works predominantly with bronze, aluminium and resin. His recent works have also included found components that are transformed through the processes of casting and welding. In local circles he is sometimes called 'The Maker', a nickname he has earned through mentoring other artists and sharing his expert knowledge.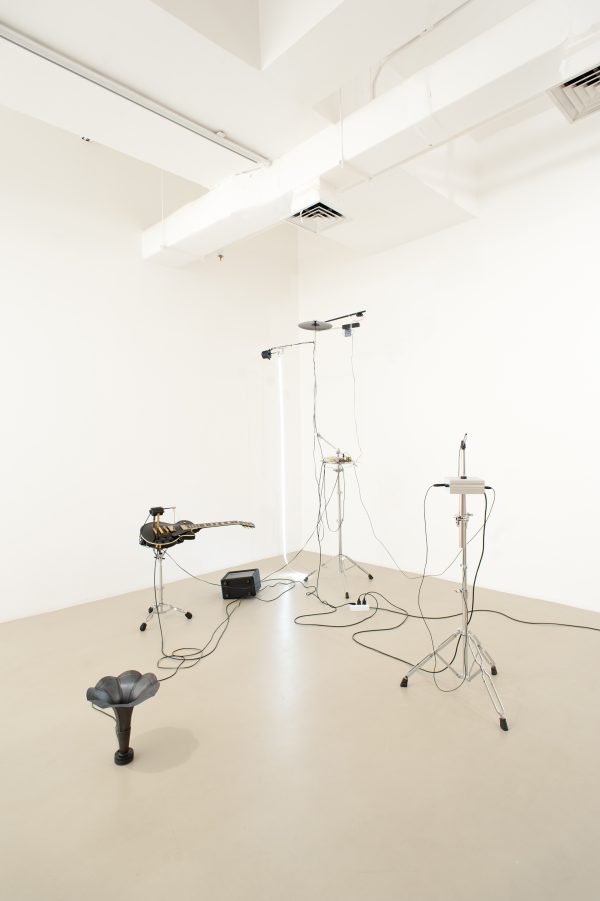 Breadman's Automation
Bagus Pandega (b. 1985, Jakarta)
Guitar, Brass, Copper, Amplifier, Cymbal Stand, Motor, Electric Systems, and LED
Variable dimensions
2016
Presented by ROH Projects
Born in 1985 in Jakarta, Indonesia, Bagus Pandega graduated from Institut Teknologi Bandung (Bandung, Indonesia) with a Bachelor of Arts (Fine Art) in 2008, majoring in Sculpture. His work has been exhibited in Jakarta, Singapore, Manila, Stuttgart, Utrecht, and Beirut with recent exhibitions including Random Black at ROH Projects, Jakarta (2016), Prudential Eye Zone, Artscience Museum, Singapore (2015) and Causality, 1335 Mabini, Manila (2014).
Working primarily through kinetics, sounds and lights, Pandega often challenges the pre-conditioned relationship between objects and their audience by emphasizing the notion of the physical space around the latter. In his works, Pandega assembles various electronic systems as 'modules' and explores mediums such as voice recorders, cassette and record players, lamps and electronic circuit boards—to name a few. Many of his artworks encourage audience interaction through movement, sound and light.