Chou Shih Hsiung (b. 1989, Taipei)
Oil in Pesrpex, self-propelled mechanical, automatic control system, steel rail, metal oil drum.
1152 X 600 x 413 cm
2019
Presented by Each Modern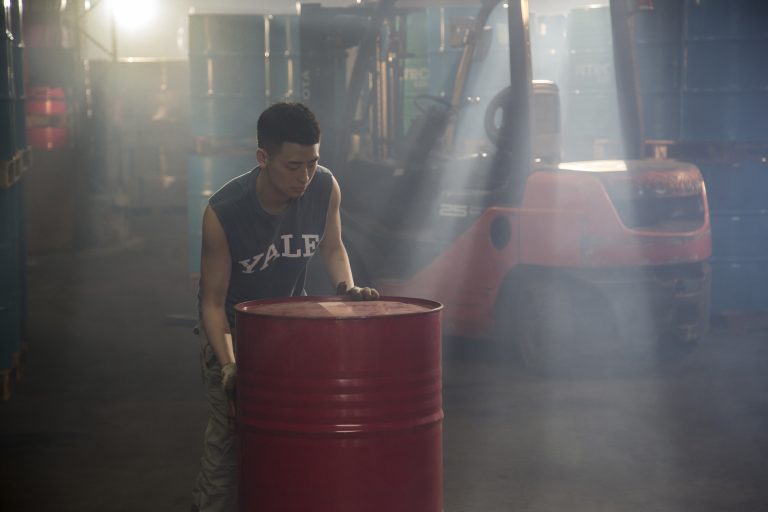 The artist, Chou Shih Hsiung, was born in 1989 Taipei, Taiwan. He gained his bachelor degree of art from the Central Saint Martins College of Art in London, and received the master degree of fine art from Yale University School of Art, New Haven in 2014. Chou is the recipient of Andrea Frank Foundation Sanyu Scholarship. Chou's sculptural work series, Oil Painting, has been exhibited at Royal Academic of Art in London, and he has been acclaimed as one of the best emerging artist in U.K. Chou is the winner of Sculptures of Kaohsiung Awards in 2014. Chou's solo exhibition — "Wait Until It Dries" began touring in 2015 from London to Taipei National Fine Arts Museum in 2016. Chou's artwork "Oil Painting – Good Boy, Bad Boy" had been presented at Singapore Biennial 2017.
Since Chou's art practice has taken on ideas of making art through an investigation of material processes and the formation of meaning and identity, he had begun considering the relationship between his work and the history of painterly art, but inflected through questions about how the meaning of the object or image works contextually and symbolically. " I'm not trying to imitate an oil painting, I'm trying to make one. And if I disregard the assumption that painting is layers of pigments applied to a surface, then I am practicing painting by other means." — Chou Shih Hsiung
At Taipei Dangdai, Chou has released his first painting series on oil drums. 100 Faces of Youth presents his memory of childhood, when he painted on oil drums in his family's oil factory.