NEW HAVEN HOLIDAY | 紐哈芬假期
18may3:00 pm7:00 pmNEW HAVEN HOLIDAY | 紐哈芬假期3:00 pm - 7:00 pm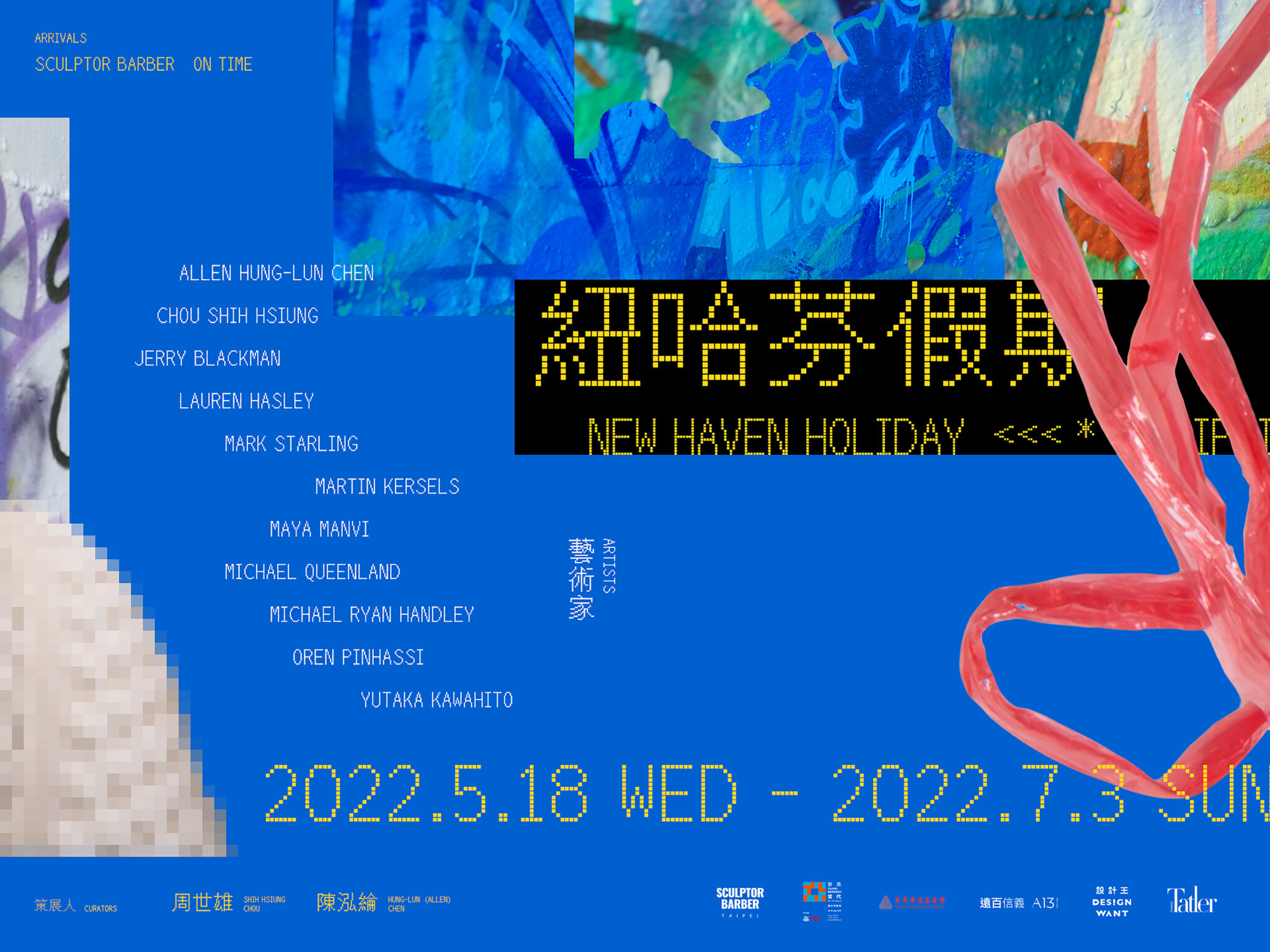 EVENT DETAILS 活動詳情
NEW HAVEN HOLIDAY | 紐哈芬假期
Access with VIP invitation | 此活動開放台北當代VIP入場
Event Description 活動內容
NEW HAVEN HOLIDAY 紐哈芬假期展覽由耶魯大學 M.F.A. 校友藝術家周世雄與陳泓綸共同策劃,是耶魯大學藝術研究所藝術家聯展。
本次展名 NEW HAVEN HOLIDAY 紐哈芬假期,以耶魯大學所在地 New Haven 為名。展出藝術家包括 Martin Kersels、Michael Queenland、Lauren Hasley、Oren Pinhassi 等知名國際級藝術家。
本次展覽獲青年希望基金會與台灣耶魯校友們的支持,並特邀設計王與 Tatler Taiwan 為開幕活動公關媒體夥伴,期待為台灣藝術圈帶來嶄新的影響力。
抱著一顆誠摯且溫暖的心,邀請各位台北當代之貴賓在百忙之中抽空參加本次由周世雄團隊與台北當代藝術博覽會共同策劃之貴賓導覽。
5/18 3:00pm – 5:00pm – 貴賓預展 #1
5/18 5:00pm – 7:00pm – 貴賓預展 #2
New Haven Holiday is a group exhibition inviting artists graduated from M.F.A. program of Yale School of Art to present their sculptures & installations, curating by Yale alumni Chou Shih Hsiung and Chen Hung-Lun.
Titled by "New Haven", the city where Yale University located at, New Haven Holiday will present globally renowned artists including Martin Kersels, Lauren Halsey, Michael Queenland, Oren Pinhassi, etc.
Supported by Youth Hope Foundation and Yale Alumni in Taiwan, we invited DesignWant & Taiwan Tatler as our media partner to promote this exhibition together, hoping to establish a refreshing milestone for art scene in Taiwan.
With a sincere heart, we'd invite you to set aside a little time out of your tight schedule to attend the VIP tour organized by Chou Shih Hsiung Studio and Taipei Dangdai Art Fair on this upcoming Wednesday (18th, May).
5/18 3:00pm – 5:00pm – VIP Preview #1
5/18 5:00pm – 7:00pm – VIP Preview #2
Event Contact 活動聯繫
choushihhsiungartstudio@gmail.com
Rex 02 2737 5832 cell. 0917 633 421
more
TIME 時間

(Wednesday) 3:00 pm - 7:00 pm
LOCATION 地點

遠百信義 A13|110 台北市信義區松仁路 58 號 2F SCULPTOR BARBER Feds Xinya A13| SCULPTOR BARBER 110, 2F, No.58., Songren Rd., Xinyi Dist., Taipei, Taiwan