忠泰美術館五週年展 《生生LIVES:生命、生存、生活》| The 5th Anniversary of Jut Art Museum 《LIVES: Life, Survival, Living》
19marAll Day31jul忠泰美術館五週年展 《生生LIVES:生命、生存、生活》| The 5th Anniversary of Jut Art Museum 《LIVES: Life, Survival, Living》(All Day)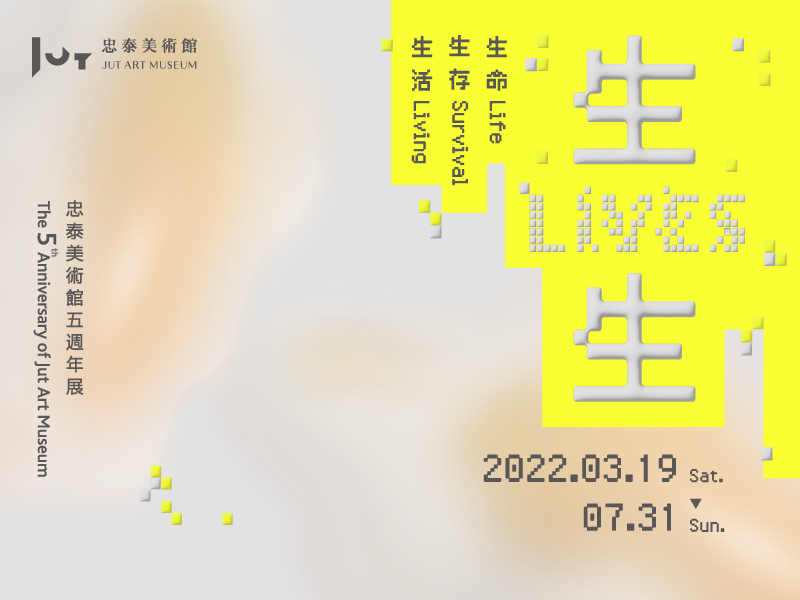 EVENT DETAILS 活動詳情
忠泰美術館五週年展 《生生LIVES:生命、生存、生活》| The 5th Anniversary of Jut Art Museum 《LIVES: Life, Survival, Living》
Access with VIP invitation | 此活動開放台北當代VIP入場
Event Description 活動內容
忠泰美術館.展覽參觀專屬優惠
即日起至2022/7/31,忠泰美術館五週年展 《生生LIVES:生命、生存、生活》展覽期間:
憑2022台北當代 VIP貴賓卡,可享免費入場。
憑2022台北當代 展覽票券,可享優待票價100元。
*優惠皆不限使用次數,一張票/卡限一人使用。
《生生LIVES》作為忠泰美術館五週年展,在面對如此充滿不確定性的全球未來局勢,試圖重新省思與探問最根本卻也最基進的主題:「生命」、「生存」與「生活」。本展邀請來自德國、加拿大、美國、英國、臺灣等共12組藝術家共同參與,策展人蔡宏賢與鄭慧華共同關注各種生命形式的可能性、生存哲學及倫理、科技發展與社會生活型態,並從文化及生物觀點,探討社會建構和生存形式,包含人與自然之間,資訊與意識之間的關係。
Jut Art Museum – Exclusive Offer for Exhibition Audience
From now till 7/31/2022, during the exhibition LIVES: Life, Survival, Living at Jut Art Museum,
The Taipei Dangdai 2022 VIP card entitles the holder to free admission to the exhibition.
The Taipei Dangdai 2022 ticket entitles the holder to purchase concession ticket (TWD 100).
*Unlimited entry for both offers. One VIP card / one ticket is valid to the holder only.
In the face of an uncertain global future, LIVES – the 5th anniversary exhibition of the Jut Art Museum, attempts to re-contemplate and interrogate the most fundamental yet radical issues of "life," "survival," and "living." A total of 12 artists and teams from Germany, Canada, the United States, the United Kingdom, and Taiwan have been invited to participate in the current exhibition. Curators Escher Tsai and Amy Cheng focus on the possibilities of various lifeforms, on the philosophies and ethics of survival, as well as on technological development and modes of living. They explore the social construction and forms of survival from both cultural and biological perspectives, encompassing the relationships between human beings and nature, and between information and consciousness.
Event Contact 活動聯繫
jam@jutfoundation.org.tw
02-8772-6178
more
TIME 時間

March 19 (Saturday) - July 31 (Sunday)
LOCATION 地點

忠泰美術館、忠泰企業大廳(臺北市大安區市民大道三段178號)及周邊公園戶外區域 Jut Art Museum, Jut Headquarter Lobby (No.178, Sec. 3, Civic Blvd., Da'an Dist., Taipei City 106, Taiwan) and the outdoor park area